Announcement: BIG update - adventurous test pilots needed!
Ok, there are two new builds for win32 and linux64 uploaded right now.
These are up to date with the 20151130 - 30th Nov 2015.
New OSX version being uploaded as I type this... 😉
That's what I mean, the changelog doesn't match the build, that build is from earlier in the month but the changelog is from just a few days ago.
Oh...well I can sort that have no fear! What I will do is grab the new version and update ModDB with it. The other builds are cool because I only provide links to the main Pioneer site for Mac and Linux builds. All will be fine. :queen:
Hi Folks
I think there might be a problem with Deimos in the November 30th build. Its more planet-like and pretty featureless.
Had a look at the Sol_00 file but couldn't spot anything, mind you that's not saying much giving my skill level when it comes to LUA! :girlcrazy:
Anyways, here is a picture from the Nov 30th build..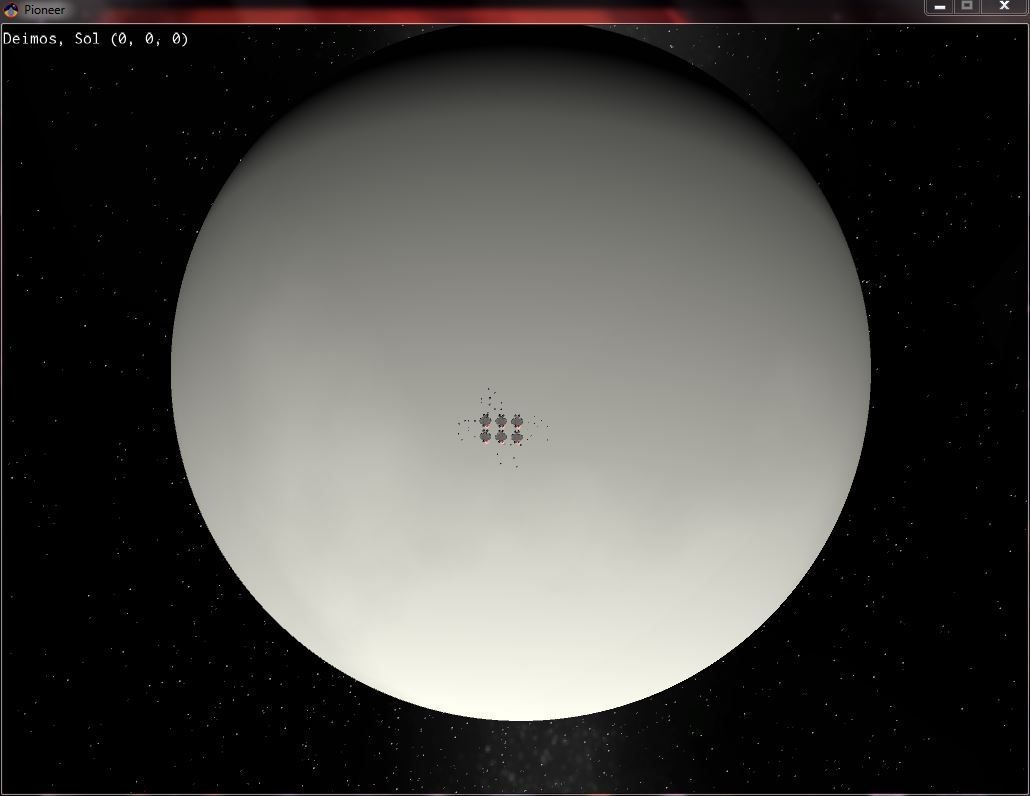 And here is Deimos in Pioneer Scout G24 to compare it against
Yeah, I noticed that too in the Linux version. It's just a big snowball.
That was Deimos, before successive improvements :O
Vuzz wins in the Deimos contest! :girlcrazy:
What version is that from walterar?
Thats from Genesia, likely the last one Vuzz created and still available in the download area. I still have much love for Genesia! So many ships....
A new build is out!
Can someone please confirm the build now works on Windows (without the previously needed "hack" to remove sgm-files), and Linux.
Two BIG reasons to upgrade:
- It comes with a new "search and rescue" mission type, by new contributor clausimu, who has worked very long and hard on it. The mission type is fairly rare, especially in Sol which has a low lawlessness, but if it's on the BBS, you cant miss it - trust me, so no need to scrutinize every BBS-advert looking for it. #3529
- John has moved the galaxy-image (F8) to Lua UI. It might not sound like much, but under the hood, it is. As you might know pioneer is standing (frozen) with one leg in the old user interface (implemented solely in C++), like sector map (F2), orbit map (F6); and another leg in the New-UI (implemented in Lua scripts), like all blue windows like station screens (F4), Settings, Menu, and more. The migration to the all Lua UI has been standing still for a long time (2 years?), but now a further step has been taken. Yay!
Oh, if I had a penny every time during development discussions the phrase "yes, but this should be done in the new UI system" has been spoken... I would have many pennies.
- Also, look over how PgUp/PgDn is bound in your key-configuration, we recommend using it for time acceleration (this is a new feature)
December 2015
* New Features
* PgUp/PgDn increments time acceleration (configurable) (#3544)
* New-UI galactic view (#3549)
* Search & Rescue mission script (#3529)
* New config value UIScaleFactor to scale text and images in the UI (#3552)
* Fixes
* Fix typo in language strings (#3382)
* Fix crash upon illegal activity in uninhabited system (#3555)
* Fix BBS icon for new S-R mission module (#3558)
* Galactic view fixes (#3557)
* Fix rounding of the 'heading' display (#3550, #3561)
* Internal Changes
* Face parts (head/hair/eyes/nose/mouth) can now be non-gendered (#3548)
* Face parts can now all be the same size to make alignment easier (#3548)
* Added forgotten strings to translation system (#3551)
November 2015
* New Features
* New random number generator! (#3485)
* More moons for Jupiter, and a low Earth orbit station (#3503)
* Three new faction specific police ships, and new crimes added (#3254)
* Three new faction specific fuel clubs (#3504)
* All stations now have a Tech Level, in range 1-12 (#3505)
* Compact Use Equip Widget (#3507)
* Normal Mapping for objects (ships, stations etc) (#3515)
* Make Autosave optional (#3518)
* Show stable Lagrange point in system view (#3536)
* Fixes
* Fix stations placed on top of each other (#3498)
* Updated premake script to generate usable CodeBlocks project (#3521)
* Fix negative latitude longitude issue (#3531)
* Fix AIWarning giving the wrong errror msg (#3532)
* Fix strings not in translation system (#3538)
* Lagrange Points in turquoise-ish (#3539)
* Fix the broken win32 cross compile (#3542)
* Fixed XCode Project file (#3540)
* Fix cockpit loading (#3546)
* Internal Changes
* All crime handling moved to Lua (#3254)
* CargoRun missions first unload all mission cargo (#3510)
Edit: build confirmed to work
Windows build works for me.
WOW! Very well done, damn well done you devs! I thank you John for the work on the UI. The game has been needing this for a while, and clausimu, SAR missions!?! Brilliant!! Can't wait to try those out. :girlcrazy:
I usually wait until the end of the month to update my own copy of Pioneer but I may make an exception this month. That build is stunning and no mistake!
Regarding Deimos, I haven't checked the latest build, but in my 20151104 Deimos doesn't have a seed value. Previously it was;
:seed(439771126)
which was under the line;
CustomSystemBody:new('Deimos', 'PLANET_ASTEROID')
in the <Pioneer name>/data/systems/00_sol.lua folder.
Adding that line makes it look like this.
[attachment=3328:Screenshot from 2015-12-17 20:06:39.png]
I'm having trouble finding any sign of that seed ever being used in Pioneer, very odd. Mind you looking for missing things using diff/blame/log is always fraught with issues.
Might be worth making a PR of that change.
Following up on this there is now a PR for the Deimos Seed, also some other investigations might come from it.