SolCommand's work in Ensign-1
Topic starter
December 19, 2012 05:51
I just thought I'd create a thread showing off of SolCommand's ships I'll try to put into Ensign-1.
Starting with his pirate fighter!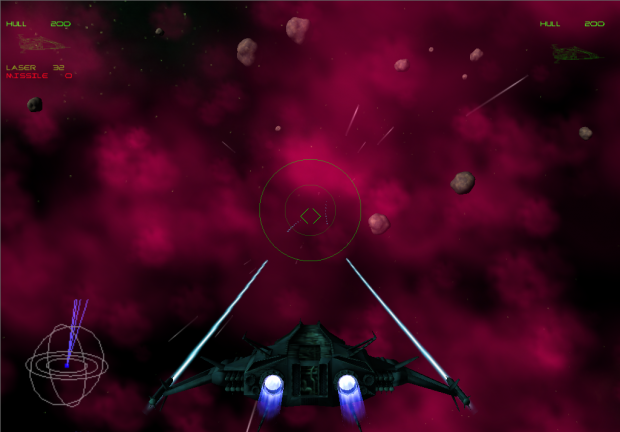 That looks damn cool Onionman 🙂
Topic starter
December 19, 2012 07:37
Hey SolCommand, I'm having trouble importing your Morena Smuggler. Any idea what would be different in that model?
Hey mate.
That fighter looks sweeeet ingame with those engine flares. About Morena, many people have imported it in various games so far without any issues so dunno why it's not working for you. I'll go check now the file on the server and see if maybe somehow it got corrupted.
Here's another version of it still in .OBJ format.
Topic starter
December 19, 2012 09:51
Thanks SolCommand,
I think I finally figured out a way to import it, can't figure out why Milkshape won't do it, I'll just have to learn blender I guess!
Topic starter
December 19, 2012 10:09
Would it be possible to have a version of the morena fighter that has a cargo hold? I was thinking it would make an interesting mission to have players land on the ship, place an explosive, and fly away as a means to take it down.
I will look into it mate.
Topic starter
December 19, 2012 11:09
Actually you don't have to worry about it if you're busy, I was able to delete some faces on that cargo thing it carries and could turn that into a docking area if I need to.
Well, I'll show you how it works in game and see what you think, we we should add a hangar room or go with what's there.
Well, I just finished editing the model, in case you still need it.
I detached the cargo pods and the small shuttle so now they are separate objects.
Btw, I got a few questions regarding something I saw in your "Cobra Interceptor image" :
- those asteroids, are they procedurally generated or you've got like XX number of custom 3D asteroid models which get automatically cloned to make an asteroid field ? If they are 3D models, how many polys do they have ? And what's the texture file's size in pixels ?
- that radar on the left, is it a 3D model that spins and rolls etc. or is it an image ?
Topic starter
December 19, 2012 14:05
I didn't realize I never sent you the game. I sent you a Desura code via PM.
You can find all the game's models in the "Models/" directory in the game folder.
The asteroids are 3D models which are cloned, I don't know off hand the poly count, probably 1k or so.
Radar is an image that I draw to to keep updated.
-Brandon
Topic starter
December 19, 2012 14:08
I just checked out morena parts. Is the only change that the cargo and main ship are now two seperate objects? I guess what I was asking is could you open the docking bay in the back of the ship and put a small cargo or hangar room there. I was thinking it would be fun for players to fly around back and dock to plant an explosive.
If that's a hassle though, totally don't worry about it.
Thanks for the game, I'll have a go at it later today or tomorrow.
About the ship, I removed that back door and placed a basic and long hangar room in there. I attached the updated model.
Topic starter
December 19, 2012 15:55
Thank you! Can't wait to put this in!
Topic starter
December 19, 2012 19:23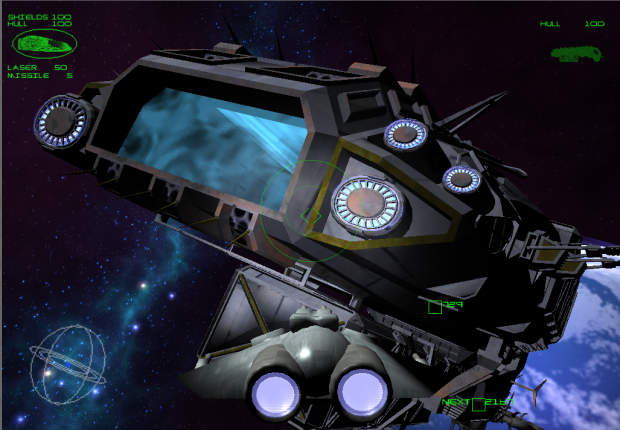 Considering how bad my UV unwrapping skills were when I made this ship I'm actually amazed the texture looks so cool up close.
Nice !
Btw, are you interested in a few more variations of asteroids ?
Topic starter
December 19, 2012 20:01
Sure I could go for some asteroids!
Your UV Unrwapping skills are A+
Topic starter
December 20, 2012 09:40
It's just so cool that you can board a ship and destroy it like that.
This almost makes me wanna create a complete ship interior so that once you board a ship might also do other things like sabotage engines, destroy sensor systems, plant a virus in the flight computer or even take over the ship and capture it. But such a model is a huge undertaking. It's on my to-do list but it may be a very long time till I have anything to show.
Topic starter
December 20, 2012 14:12
Hah, well unfortunately for any of those cool ideas to work I'd have to spend a lot of effort on the game engine myself. We can discuss options though if you stay interested in this.
Meanwhile, here are some asteroid models if you want them and if they fit the game style
https://skydrive.live.com/?cid=5d0715049236d05b&id=5D0715049236D05B%21113#cid=5D0715049236D05B&id=5D0715049236D05B%21721
Topic starter
December 22, 2012 09:37
Thanks solCommand. I'm not sure i'm going to go through and redo earlier missions, but I'll certainly try to use these for the future ones!
Topic starter
December 23, 2012 07:40
Hey SolCommand, I'm interested in your Babylon 5 mothership. I was wondering if that's your own design, or if it's modeled after the one in the show? I'm not familiar with the series, and just wanted to make sure i wouldn't get in trouble for using something like that.
If I remember right I used as inspiration this type of picture, so it's a long way from it. I reckon you're safe 😉