Empyrion - Galactic Survival
Has anyone tried this game? Reviews on steam are very good.
Yes but I'm not got far into it as I'm not a great fan of theses building games but I do prefer it over Space Engineers.
I have tried this for a short time just to see that I have to transfer the game to a more powerful computer system to enjoy decent FPS at medium grafics settings. However you can set these to low and it will also run without problems on low-end computers as for the min. specs, of course you then have a different experience. The grafics of this game are very good IMO.
From the gameplay I like the in-built tutorial very much, it goes in very details about what you can do and how to. There is already very much content in this game as for building stuff, flying ships in space, exploring. The FPS intereactions are worked on and I expect much in the immediate future to be added and improved.
This game, and also Space Engineers could suffer from what I think is a too much central devotion to building features. It is certainly nice that you can build ships, compounds, whole bases, etc., but after this you ask: And now what? What influence has all this on the gameplay? For example, can you build a base that has challenging corridors and rooms to be a platform for a decent FPS combat arena? Will your base-building skills have an influence about how easily this base will be destroyed by enemy bombers or such? Did you build a heavy ship just to see that it's a 'stone' in the sky easily sur-classed by light NPC fighters because of your slow turning rate? These are factors that make a game interesting.
I give value to the content of such features not only by looking at the visuals (that are fine in EGS), or their quantity. I'm primarly interested how they perform in the gameplay to give the player a real challenge AFTER building or putting in place these constructions, ships and platforms. Space Engineers shows clearly that it's not enough to add a lot of construction possibilities, you can build capital ships if you want, strong terrestrial bases too, but then: Is there a decent single-player mode to do fightings in space? Manage and defend your stuff on planets? it comes very short, nothing to write home about. To only play the architect you don't need a space game. Only doing that is more a tech-demo, not a game.
These are things to care about and should be added soon to make these titles playable over a longer time.
Empyrion Galactic Survival is on a good road. But the time is NOW to make these crucial decisions about really helping features to add to the game. Obviously you can not add everything en masse and hoping that it will 'somehow' fit in the overall picture, that would be the wrong development strategy IMO.
I will follow this title further of course, if you like games like No Man's Sky, you will also enjoy this one when more features are polished and added.
XenonS
Nearly 32 hours of playing it, without ever leaving the surface of a planet!!!!!
Never really got into it myself, I guess these survival, base building game are not my cup of tea. Had much the same problem with Space Engineers.
Edit just found this vid for the latest update, looking good might be temped to have another go at it.
Alpha 10 came out on the 17, I just noticed it as Steam is downloading a 674 meg hot fix.
I recently saw an updated trailer for Empyrion and it perked my interest more than what I saw previously, yeah its still in Alpha so I will hold off until this is getting closer to release. I like the fact that it can be played SP, MP and CO-OP. I am interested in seeing how the environment interacts with you over time. It does give a bit of a NMS vibe .
Very nice update to the game 😎 😎 pity I could never get into it.  
Just noticed that they have announced that they will be coming out of early access on the 5th of August.   
New trailer out and it's looking good but as I said just could never get into the game.
I read some very negative review, regarding this release!! It seems that the game was not ready for version 1.0!!
What I don't understand is that their are some negative reviews from some player who have played hundred of hours of the game and in one case some one who has played it for nearly 2000 hours.
I know myself that I can usually tell if I like a game within a few hours of playing it. 
I spy that the game has been updated to 1.8, not played it myself in years but great to see that it is still being updated.
I spy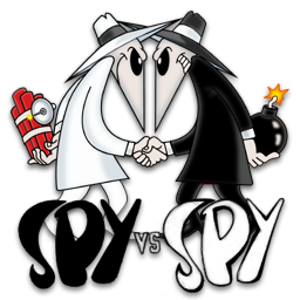 @pinback What a timesink!! I 've spent nearly 60 hours playing various versions and I 've only been to space once!!!!!
I spy remember playing that on the 8 bit computer. 😀 
Just never been able to get into theses survival type games myself, just don't have the patience for playing them. 
I spy remember playing that on the 8 bit computer.
No surprise it was a popular video game - Spy vs. Spy was one of the highlights of MAD magazine. Occasionally, the Woman in Grey would appear, and it'd become Spy vs. Spy vs. Spy. She always won, of course - such is the way of the world!