[Sticky]

Oolite Screenshots
Love that show. I won't be using it in my game. ( I prefer my Ooliverse to reflect the Elite setting only.) Still, its absolutely brilliant that Staer9 made it for Oolite. 😀
Crikey! It's been ages since I posted a pic!
This fugitive was having a right old tussle with a couple of GalCop Vipers when I came along, and doing quite well: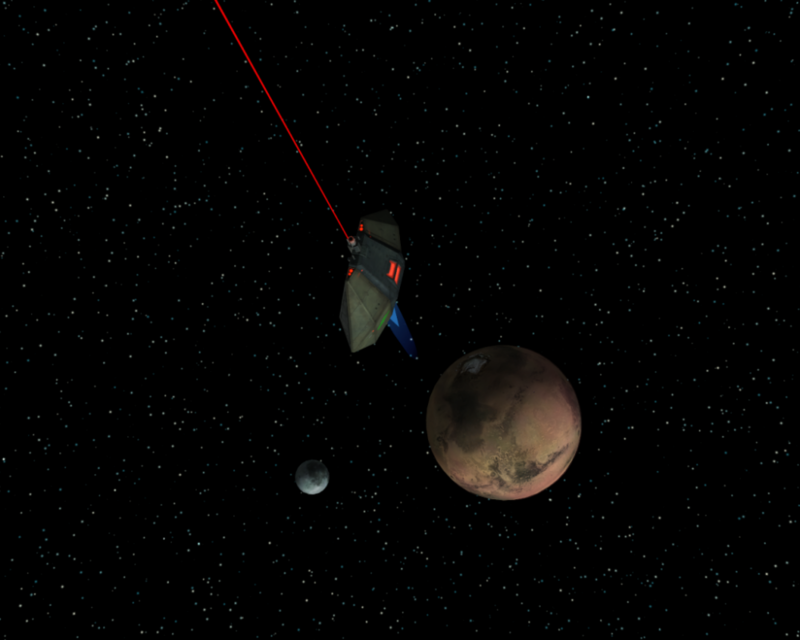 Then a bounty-hunter in a Fer-de-Lance started on him as well, and the poor sod got confused and froze for a second: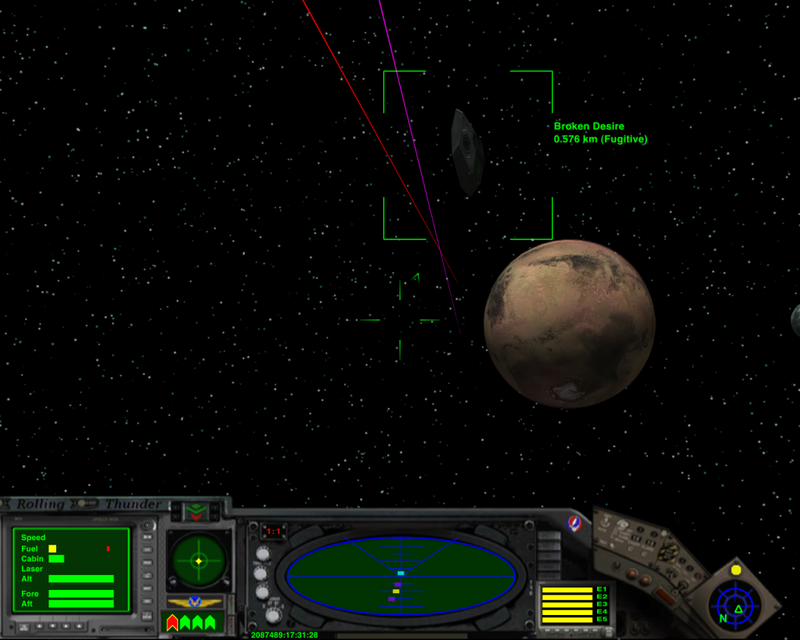 I might've intervened - either put him out of his misery, or splashed the Vipers and Ferdie for him!
Here is my latest hud creation, NumericHUDv3.oxp
Leaving the station
NumericHUDv3 #1 by CommonSenseOTB, on Flickr
Picking a fight
NumericHUDv3 #2 by CommonSenseOTB, on Flickr
Dogfighting
NumericHUDv3 #3 by CommonSenseOTB, on Flickr
The real improvement in NumericHUDv3 comes from keeping the normal readouts just barely visible and not distracting while making them glow/pulse a bright color to draw your attention to the gauges that need to be monitored closely. This concept works quite nicely, particularily during combat when your attention is focused on killing or being killed rather than the gauges and NumericHUDv3 is now quite close to what I had originally envisioned for a numeric hud display when I first set out to make version 1 over 10 months ago. In the near future there will be improvements due to new oxp capabilities.
Check it out here:
Hey there Commander Cody!Like my screenshots? I thought it was about time I stop by for meets and greets and show off some of the latest new stuff from oolite.
Cheers! 😀
commonsenseotb wrote:
Hey there Commander Cody!
Oops! I must've slipped into another universe!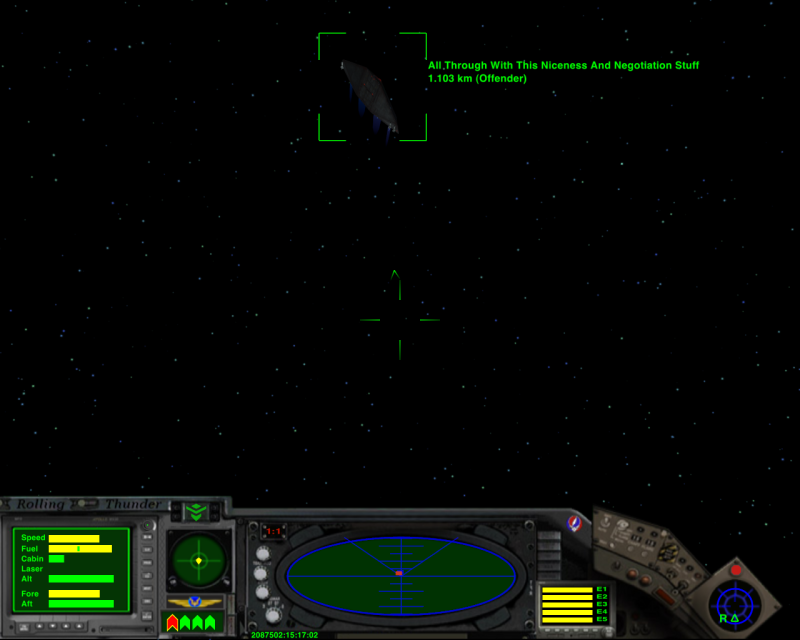 The Random Ship Names OXP is responsible... it gives a huge variety of names to all NPCs. Such a 'cultured' OXP!
The 'Psycho Saucer' as I call it... a giant Thargoid warship over 6km across with awesome firepower, caught in the act of warping-out, hence the shimmering colours - and yes, you get to take it on... somehow!
From a mission OXP called Xeptatl's Sword.
The local GalCop Viper jocks at Zaquesso didn't take too kindly to me flying a Colonial Viper on their patch: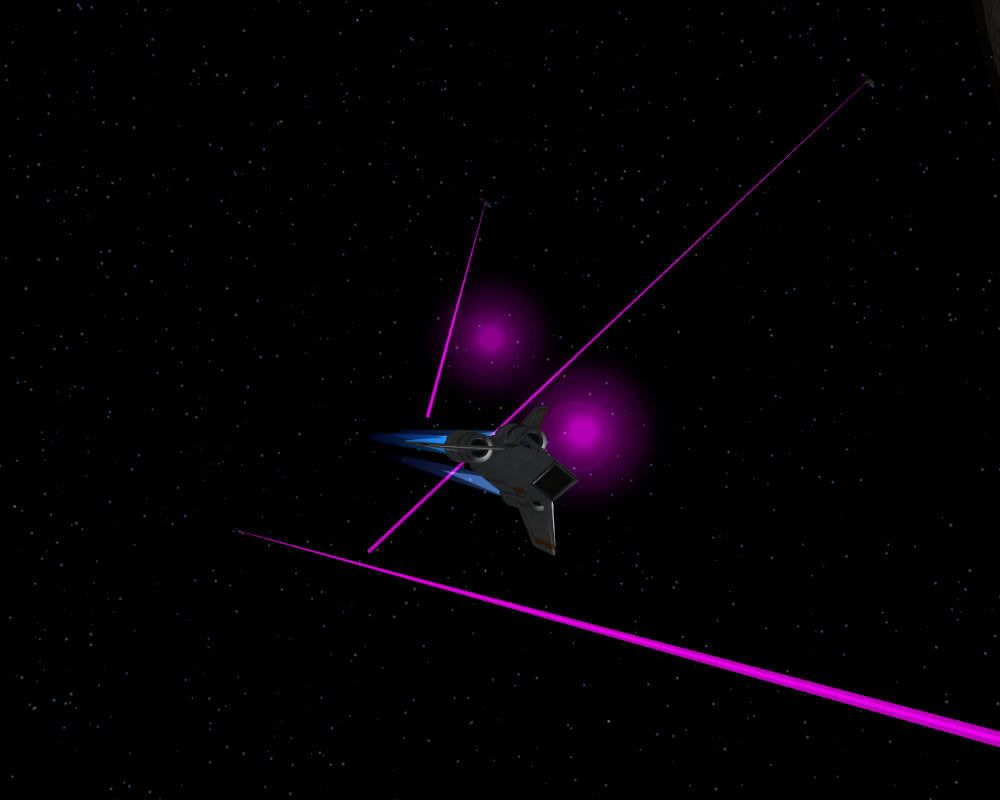 From a soon-to-be released OXP created by Shipbuilder - it's a wild ride!
Ooooh that Xeptatl's Sword oxp looks great! 😎
Geraldine wrote:
that Xeptatl's Sword oxp looks great!
If you fly one of the core ships (rather than an uber-ship), Xeptatl's Sword will test you.
I had some input in its development, and we tried to make it a bit fiendish in places... heh!
Well, it wouldn't be an Elite game if it was fair! 😈 The unfairness of it at times is one of the best features of the Elite series and any re-make should include that too. Small fishies should stay away from big sharks! 😆
Anyways snagged it off the dev's site, but will need to put some serious time into Oolite as my commander is broke and flying a piece of junk at the moment 😳
Know any place I could pick up a decent Sidewinder?
Geraldine wrote:
Well, it wouldn't be an Elite game if it was fair!
That is the essence of a great game - the player should never become invincible. The game should always be able to surprise the player, and give them a right royal slappin' occasionly. Too many glossy, slick commercial games miss these points, to their detriment.
Forget the Sidewinder - get yourself a Cobra III, the finest all-round starship in the Eight!
Cobbies are good ships, no arguments there, but Sidies are special to me, in FE2 I took one from one end of a galaxy to the other, it was my "retirement" ship after a long military career in the Fed Navy 🙂 The scrapes I got involved in with that little ship still make me smile 😎
Geraldine wrote:
The scrapes I got involved in with that little ship still make me smile
Aye, one does become attached to certain ships. My first Oolite Cobra III, Clear Air Turbulence, was a fine ship and like Commander Cody, the name dates back to the BBC days. When it was time to change to Rolling Thunder, I gave the CAT a real good send-off - I drove her hard straight into a sun, ejected at the very last second, and watched her burn from the escape pod!
Immersed? Moi? I should bloody-well say so!
Talking about Clear Air Turbulence, this is the album cover I took the name from. I love the artwork of Chris Foss - all those sci-fi covers he created, with fantastical spaceships. Brilliant! I wonder if Iain Banks also liked that album - he obviously liked the name?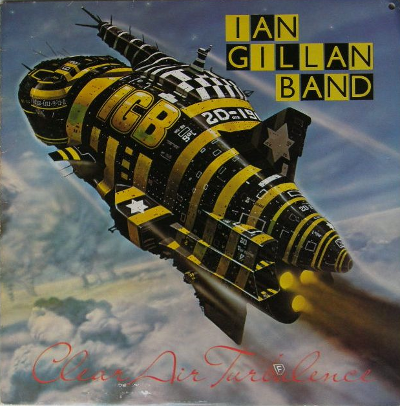 Geraldine wrote:
Oh, and my Sidie is called The J Miner's Revenge
If you're flying the Griff player-Cobra III, you can customise your own paint-job - to almost any degree of intensity!
Geraldine wrote:
Or insanity even!
"You might very well think that... I couldn't possibly comment!" ~ FU
Topic starter
June 11, 2012 03:50
The Tigershark liner from the Liners.oxp :).
Ooh Very Cool!
What shipset are you using btw? I've never seen a Cobra skin like that. Is that your own? It looks an awful lot like your retexture for Old Ships.
No screenshot today - have a rhyme instead:
Pulled out of Diriis late one night

The moon and stars were shining bright

Had me a hold full of megaweed

And I knew a planet that had the need

I hit the boost, headed for the leap

Once in the tube, I'd get some sleep

But those damn Vipers came out to play

Left me wondering if I'd get away

As the clock ran down, I thought I could make it

If only my battered shields could take it

But as the count hit one, I took a heavy blow

A bloody Interceptor puttin' on a show

Got knocked aside as the wormhole gaped

Caused a mis-jump, but hey, I'd escaped

Next thing I know, there's bugs to fight

And breakers to blow… oh what a sight

I took them down, all warships five

Badly damaged, but I'm still alive

Blew the breakers, one, two, three

Damn well lost one… oh stupid me

A frantic search of interstellar space

Left me thinking that I'd lost the race

At last I checked the short range chart

And saw a sight that cheered my heart

Right next to me, within a light year

Zaquesso loomed, and brought good cheer

I had just enough fuel, with none to spare

And whooping wildly, I jumped out of there

Next thing I know, I'm skimming the sun

Then off to Artear… man, what a run

I torused in and docked at speed

Before them Vipers could draw a bead

I sold my weed for a princely sum

Then hit the bar, and ordered rum

Got thoroughly drunk… could barely stand

But what the heck, I'd made three grand!