YOUR essential OXP list?
Topic starter
June 12, 2012 21:06
Recently, I've found myself questioning some of the OXP's I use in my rather... large list of OXPs. I'm determined to reach ELITE, but am I going to achieve it and feel like I earned it? After some consideration, I decided I wanted to reach ELITE in an environment that was as close as possible to the Original Elite series. While Galactic Navy and RH are fun, they don't really fit that bill. Once I had removed those, next on the chopping block were the graphical mods, and alot of the OXP ship mods I had. I realized that there where certain mods I COULDN'T get rid of. What are your ESSENTIAL oxp's for your installs?
(I would LOVE to link the following OXP's, but I havn't been able to get on the WIKI in over a week. Anybody have the link for the backup wiki? The one that isn't Alioth.net?)
I found only two really essential OXP's for me.
NPC Shields
Deep Space Pirates
Old Ships
That's it. I thought it would be bigger, but...
What are YOUR essential OXP's?
Back-up Wiki is here.
As regards absolute must-have OXPs:
Fighter Hud
NPC Shields
Random Ship Names
Griff's Shipset
BGS
Funnily enough, I made a recommended OXPs list on my Elite Wiki profile recently.
'Recommended' is subtly different from 'essential' though, JH.
Cody wrote:
'Recommended' is subtly different from 'essential' though, JH.
Picky, picky! 🙄 😆
My list is of recommended OXPs, ones which I've tested. I would consider them to be essential, upon which you can add more. I wouldn't be without any of them.
IronHound wrote:
... I'm determined to reach ELITE, but am I going to achieve it and feel like I earned it...
This is crucial! You'll get much more satisfaction out of attaining the rarified heights of Elite rank if you do it the 'traditional' way - ie with only eye-candy installed, using no OXPs that give easy scalps, or easy money (of which there are several). I went all the way in a standard Cobra III with only eye-candy OXPs installed (plus a couple that make life harder, such as NPC Shields) - the only 'missions' I did were the native ones.
Once you hit the magic 6400, you can start counting in RoC blocks!
JazHaz wrote:
Picky, picky!
You betcha!
This OXP has now been added to my must-have list - it improves npc convoy/pirate group behaviour.
Povray Planets has now been added to my must-haves - cube-map textures for every planet. Beautiful, especially the gas giants! Four octants plus the base OXP are here - the other four octants are here. I may as well throw in a pic - Avernus Orbital hanging above Lago: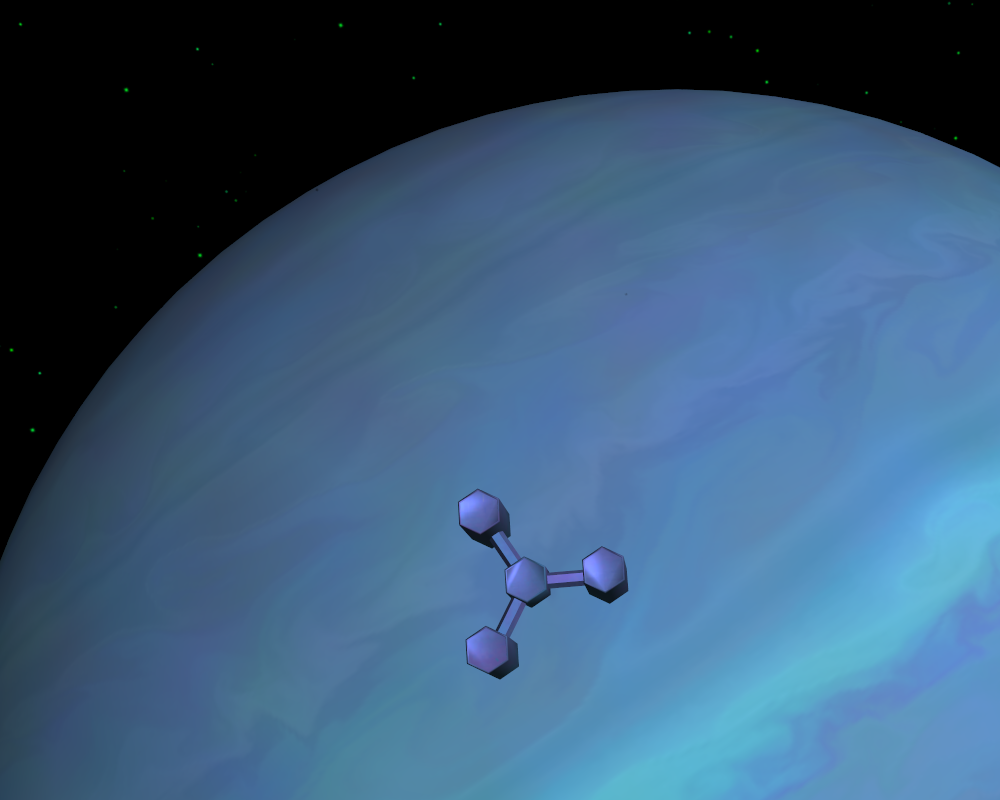 I was using Povrays then I switched to DH-Systems and famous planets (that file was humongous!).
I'm a bit all over the place now tbh, I don't recall seeing gas giants like that with Povrays but with DH-S I seem to find them in loads of systems...
I dunno, actually what chart is Lago in?
I'd switch back to Povrays in a heartbeat if I knew stunning gas giants like that were waiting for me.
Does Povrays work with famous planets though? I wouldn't like to lose those...
I also like the many moons DH-S can generate (set mine to max but only 1.2 planets, thinking of dropping that to just 1), particularly around aforementioned gas giants.
Ugh.
See the mess I've gotten myself into?
Roll on 1.77 so I can start the process all over again lol.
'SuperbatPrime' wrote:
I dunno, actually what chart is Lago in?
Lago is an interstellar gas giant, found midway between Lazaso and Zaenza in the fifth octant. It's part of the Coyote's Run mission OXP, so you gotta work to get there - but it's worth it. In my personal version, I've got the asteroid swarms maxed-out, and go weaving through them on torus - very cool, and Avernus Orbital has some very interesting kit available! I also have one of Povray's textures installed especially for Lago - in the release version of the OXP, it has a nice Neptunian texture done by Smivs.