[Sticky]

What is your current PC config?
good to see not everybody has a supercomputer 😳
OS: MS Windows XP SP3 (still!)
CPU: Intel Core 2CPU @ 2,13 GHz
MAINBD: Kentsfield?
RAM: 2GB DDR
RD: SATA 300int & 500ext GB, 2x PCI 250GB both, external USB 250GB, (Rigid Disk 😉 )
DVD Rom / DVD -, writer
GFX: NVIDIA GForce 7600GT PCIE
SND: Creative SB Live! and a turned off internal, i dont trust soundcards without at least a few discreet components.
Input: of course a keyboard (crappy MS) and a mouse (of course logitech), Logitech Dual Action, Logitech WingMan Cordless, Logitech WingMan Formula Force Pro (a Wheel), oh i forgot one MS Sidewinder and another simple Logitech digital Pad. am i a octopus ❓
a scanner no two, one very old scsi, but hey res. is still as good as of the new only weight is 4x - full steel chassis, printer(s) and a JVC micro hi-fi attached to SB.
and some flat HP 16/9 screen plus a old Sony 4/3, else i would sit in the dark 😆
SATA might be fast yes, but the plugs they gave them make it to a cheap crap, it isn't a proper connection! all this flat ass to ass connection, this is not electronic that's rubbish. a plug has to have a propper place to sit in, like male / female and not two female, it won't work! that's no technology it's cheap plastic crap. who ever is responsible for that, should return his title as engineer immidiatly!
i mean a plug for a system relevant component that is cheaper as a USB connection? why they don't use simple cables sticked in a hole that's cheaper to. really that is no technology i hate it when i look at it. or even better glued on flat cables, i love them!
sometimes i have a I/O error on my Internal SATA due to that!
it might be fast but my system runs on trustable "slow" ATA with the good old heavy to plugin / plug out PCI connection
due to that fact i can use SATA only for storing media
there was once standarts for computer components and a good plug "cuts in" (even a USB does that) when connected, to grant it's functionality, you have older non system relevant components with far better connectivity, like the std serial, additionally fixed with two screws. but for SATA they forgot all these standarts, they not even cut in and tend to corrode, so it's a professionally weakened part you can say and failure is programmed.
some additional RAM would fit i guess
talkin' about bottlenecks, processors the biggest of all
isn't the FSB more important anyway?
and let's talk about grandpa he's gettin' 60 soon. (x86 CPU)
after all moving this large amount of data to a HD, only because of mem limit's of grandpa, it's no rel good solution, it works, but fails often. i repeat myself hm; one for mami one for daddy, one for gran... oh no...... shit start again one for mami, one for ahh damn' again.... one for mami and so on
we could revert to this that works good the same as
It everybody free choice how much they want to spent on there equipment. But with that also set's the limits the hardware can handle.
It's a choice a 8600GT was cheap wen it was brand new. And I could play Farcry2 on 1920x1200 on low settings and still look nice. But I like more luxory and it became a GTX285+ 8600GT.
And now have a other rig with 5870. I already have played DX11 Games wich use some off those new Testalation feature.
Play games on high settings. That a choice of freedom each PC gamer has. But a console not. Spects are fix so most settings to.
A Game PC you can make as cheap as you want or very expensive. And still have fun gaming.
Topic starter
July 15, 2010 16:58
At the end of the year I will be spec'ing out another machine, the kids complaining they can't play all the latest games. So now the slowest machine in the house will have a 8800GTS which is still a good card. My current rig will go to the wife which has a single 4890 and I have been thinking about going budget this time but also wanting to get DX11 as well and thought a card like this will be good...
http://www.newegg.com/Product/Product.a ... 6814125327 (will buy 2x of these)
I know I have a few more months yet and I'm sure prices will drop so quality will rise. Was looking to spend around $300 total on the gfx. I wanted to try out crossfire to see if there is any real improvements.
[jk]I wand to stop this thread!!![/jk]
Lol... I just feel bad reading this thread, on the one hand I'm glad you all have nice and shiny stacked boxes with the latest hardware, on the other hand... I'm crying in envy. I bought my PC five years ago, it was on the lower price range, onboard graphic (Radeo Xpress 200), 256 MB system ram (trust me, I feel cheated so I raided my brother's PC and grabbed another piece of 256 MB DDR, his was four years older than mine.)
What can I say, it was a $200 deal...
CPU: Intel Core i7 930
Memory: 4Gb of ddr3 ram
HDD: OCZ Apex 120gb SSD
Gfx Card: GTX 480 Superclocked 🙂
Snd Card:Integrated High definition Audio.
Input/Joystick: Standard cheap Mouse and Keyboard, don't like the "New" mice with all these contours....
My current spec is 🙄 ............ ferociously retro!
They are, starting with my beloved Amiga 500+ with 1 meg RAM expansion and 1.3/2.04 ROM switcher, Amiga A1200 with 80 Meg HD, 68030 (with FPU) accelerator card and 8 Megs of fast ram, a CD32 totally standard except for 2 Competition Pro game pads and my A4000 with 24 Megs of fast ram, 3.1 Roms, a 4 Gig IDE card drive, an Indivision AGA card (for displaying native screen modes on modern monitors), a Cybervision card (for high res screen modes) and a Cyberstorm MkIII 68060.
The 4000 though is presently away being repaired and I hope to get it back in fully working order soon. Dying to experience what OS 3.9 is like as it is the most advanced OS for classic Amigas. I also hope I can rescue some files from it's old Hard Drive. I have a very advanced Frontier Commander on there!
Oh and last and most definitely least a crap PC, as to it's spec? Um,............it works and its not an Amiga! 😡
I'm on my mom's school laptop, so it's nothing special.
It's capable of modest gaming, though nothing worth drooling over.
Current:
CPU: 2.16ghz Celeron or Genuine Intel(R) CPU 585 @ 2.16GHz (DxDiag)
Memory: 2gb
HDD: 149gb
Gfx Card: 1gb Mobile Intel(R) 4 Series Express Chipset Family (DxDiag)
Snd Card SoundMAX HD Audio
Input/Joystick: Small USB mouse + Integrated keyboard & Touch pad thing
17 x desktop 2.4Ghz single core up to core 2 duo 2.4
6 x laptops 1.4 - 1.6
(I do a lot of multi client gaming.. as you might have guessed)
Main rig:
X1950XTX 512 - Core 2 Duo 2.4 - 3Gb Ram - Xp 32b - 3x 19" LCD - Triple Head 2 Go - TrackiR - SBLive! 1024 (still alive 'n' kicking!)
Controllers:
Saitek Pro Flight yoke / rudder pedals / throttle quadrant (yeah, am a bit of a flight sim buff also)
Logitek G25 racing wheel / pedals / gear stick
Saitek X52 Flight control system / throttle advance - MFD
Saitek Cyborg 3D Gold
MS Sidewinder Force Feedback Pro (for those evenings when I like to arm wrestle the computer)
MS Sidewinder Strategic Commander (never could figure out how to use that bloody thing)
Saitek MegaGrip VIII (Jeez, I still HAVE that?)
Internet:
50Mb Cable primary with 8Mb DSL secondary
Oh.. and my DL380 server with UPS but that is only for special occasions.
Not to mention boxes of sound / graphics / ethernet cards / AT ATX PSUs
HEY, PEOPLE.. if you NEED anything.. let me know.. I can probably send it to you for free!!
Workstation:
Code:
CPU: 4x Opteron-8354
Memory: 16GB (8x 2GB)
HDD: 250GB
Gfx Card: 9500GT
Snd Card: Audigy
Input/Joystick: Mouse/Keyboard
Monitor: 2x SyncMaster 204B
Server:
Code:
CPU: 2x Opteron 280
Memory: 8GB (8x 1GB)
HDD: 4x500GB
Gfx Card: FX5500
Snd Card: No sound
Input/Joystick:
Monitor:
Topic starter
October 26, 2010 04:54
Got some nice rigs there Simbad. I wouldn't mind a server myself to maybe host some games for SSC, but not sure on how much bandwidth that would suck up for my home connection because everyone uses the web here and lots of streaming tv 🙂
Both machines are running a 64-Bit linux. On the workstation I have additionaly W2K and WinXP virtual machines. The W2K for playing Civ2 and the WinXP for my work and some of the development tools I use.
The VMs are on nearly the same speed a real machine, as long as you do not run high end graphics applications.
currently my PC is
CPU: AMD Athlon 64, 3200+ 2GHz
Memory: 1.5GB
HDD: Several, 40gb for Windows XP SP3 Pro, 90gb originally for things like office, photoshop etc. and a 500gb for games but I accidently deleted everything on my 500gb before it became my for that use and now I have it sitting there doing nothing waiting to be recovered before I can use it.
Gfx Card: Saphire X1350 256mb
Snd Card: Onboard for Vent, SoundBlaster for game sounds
Input/Joystick: Saitek AV8R (misplaced it currently)
I plan on getting (when my insurance claim comes through)
CPU: AMD Athlon X3 II 3GHz
Memory: 2/4GB DDR3
HDD: Sticking with my current HDD setup
Gfx Card: ATI HD5750 1GB DDR5
Snd Card: Sticking with the Sound Settup I currently have.
Input/Joystick: Not bothered about changing it currently but I would love a full set up to use with FSX Accelerator
CPU: AMD II X3 435 (2.9GHz)
Memory: 4GB DDR3
HDD: 500GB Sata 2
Gfx Card: Geforce GTX 460
Snd Card: Realtek HD audio (Integrated in Gigabyte GA-880GA-UD3H motherboard)
Input/Joystick: mouse + keyboard 🙂
You guys have some really great computers! Mine is kind of a dinosaur, but, well, you know. Money is tight.
Code:
CPU: Phenom X4 9600*
Memory: 6 GB of DDR2
HDD: 800 GB**
Gfx Card: nVidia 8800 GT 512
Snd Card: Realtek integrated crud
Input/Joystick: Logitech Wingman Extreme, Mouse + Keyboard mostly
*Yes, the Phenom with the TLB issues. Bypassing the fix boosts performance, but it's a dog anyway.
**Total from four older hard drives.
I'm hoping to save up money for a new rig next summer, we'll see how that pans out. Heh.
RAM: 1.5 GB
OS: Windows XP
Cpu: Intel c2d 3 ghz
Mem: 2gb ddr2
Hdd: 500gb + 160gb DL + 320gb ext + 1tb ext
Gfx card: evga 8800gt ssc 512mb
Snd card: integrated 7.1
Input: basic logitech kb, M500 logitech mouse, logitech joystick wingman 3d
Monitor: 19" Neovo
win7 - 3 years old config
Laptop HP DV7
Intel c2d 2.2gh
4gb ddr3 ram
2x 320gb disks
4650 1gb mobile
17" display 1600*900
M500 logitech mouse
win7 - just got his 1st candle on the cake this christmas 🙂
Desktop
Cpu: Intel Pentium D 3.4Ghz Dual Core Proc
Mem: 3gb DDR2 Ram
Hdd: 2x250 gb SATA drives, one 500gb SATA drive
Gfx card: EVGA 9800GTX+
Snd card: Turtle Beach Riviera (onboard sound crapped out, i bought what was cheap, lol)
Input: Moush, Zboard Merc Gaming Keyboard
Monitor: Old PoS
OS: Windows 7 32 bit
Laptop
Cpu: AMD Athalon X2 64 2.3Ghz Dual Core
Mem: 3gb Ram
Hdd: 320gb
Gfx card: Nvidia 9000M G
Snd card: Onboard HD Audio
Monitor: 14 Inch
OS: Windows Vista Home Premium 32bit
Summary
Operating System
MS Windows 7 64-bit
CPU Intel Core 2 Duo E8400 @ 3.00GHz
RAM 8.0GB Dual-Channel DDR2 @ 400MHz
MB ASUSTeK Computer INC. P5Q-PRO (LGA 775)
Mon SyncMaster (1680x1050@60Hz)
VGA ATI Radeon HD 4870 Series (Sapphire/PCPartner)
HDD 488GB Hitachi Hitachi HDP725050GLA360 (SATA)
35.9GB FUJITSU MAX3036NP SCSI Disk Device (SCSI)
488GB ATA DriveXpert HDD0 SCSI Disk Device (RAID)
CPU: Intel Dual Core 3.0Ghz
Memory: 2GB DDR2 - Keep meaning to upgrade
HDD: 1 x 1TB SATA, 1 x 350GB SATA, 1 x 80GB IDE
Gfx Card: ATI RADEON HD 4550 512mb
Snd Card: onboard =/
Input/Joystick: Xbox 360
OS: Slackware 13.1 / Windows 7 64bit
Code:
CPU: Intel 2.4GHz Core-2-Quad
Memory: 8GB @800Mhz DDR2
HDD: 1TB Western Digital w/ 64MB cache
Gfx Card: 1GB DDR5 XFX Radeon HD5870
Snd Card: Creative X-Fi Soundblaster Audigy w/ optical output
Input/Joystick: XBox 360 wireless controller for Windows using Pinnacle Game Profiler for mapping
Simbad wrote:
Both machines are running a 64-Bit linux.
That's sweet! 😀
I use Windows 7 x64 on the computer whose specs are listed above, but... I have a Mac that triple-boots with Windows, OSX, and Ubuntu 10.10 64-bit, plus I use Ubuntu Studio in my control room for my music work, and I have an Ubuntu 10.04 home media server. I even was running MythBuntu in my bedroom to DVR my TV shows, but I recently decided to switch back to Windows 7 Media Center because I was unable to figure out how to decode Hi-Def channels with my tuner. WMC does it "out-of-the-box". It's cool to see a fellow Linux user on here 🙂
Got me a pair of Asus 23" VH236H monitors... lovin em!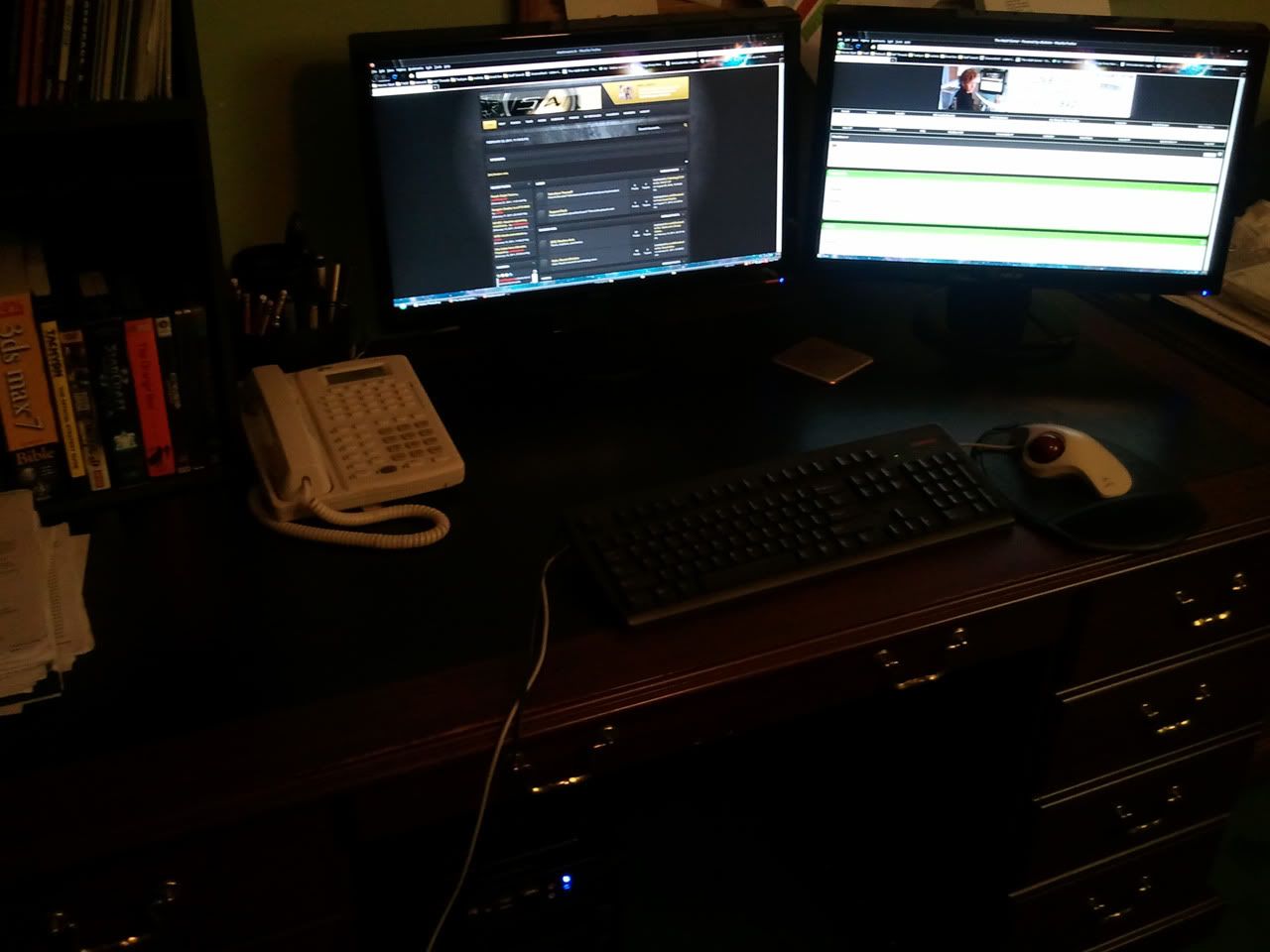 i7 920@3.6Ghz
6GB DDR3 1866
Intel G2 80GB HDD + 1TB F3 + 640GB WD + 250GB Seagate (all Sata)
Ati (or AMD?) 5870
Samsung 223BW
Well...
Athlon64 @2GHz
2 GB RAM
Radeon X1550 (but now I'm using integrated GF 6100, works better than Radeon)
HDD 160 GB
Thrustmaster 16000M
http://www.ebuyer.com/product/236587
Processor : Intel Core i5-655K 3.2GHz Turbo Boost to 3.46GHz Intel® H57 Express Chipset
Memory 6GB DDR3 RAM (more lol )
Hard Drive: 1TB SATA (more later)
Optical Drive: DVD Writer (blueray later)
Operating System: Windows 7 Home Premium
Graphics: Nvidia GeForce GTX460 1GB
PC i might be getting maybe add more ram and second hard drive as well
don't know yet still looking hope to find out next week, what money i have to spend ???
Hi DarkOne,
this is my config:
CPU: Intel Core i3-370M
Memory: 4 GB
HDD: 500 GB
Gfx Card: ATI 550v
Snd Card: Realtek
Input/Joystick: USB Joystick
OS: MS Win 7 Home Premium 64bit / Ubuntu 10.04
I am sure I will not upgrade for next future, beside the fact it will be a bit hard with a laptop :D. In fact I upgraded last year form a single core machine 8 years old. My goal was to get a new computer good enough for working and gaming, and I think I found the best compromise for the acceptable price I wanted to pay.
Greetings
SpaceRider