Ship Components
Topic starter
February 18, 2013 14:32
Fish said to shadmar in the Shuttle thread, "don't forget to think about where maneuvering thrusters are going to go". That got me thinking. What does that mean, exactly? What is the shape and volume of a thruster and how does that vary with the amount of thrust produced? What's the size and shape of a class x hyperdrive? What's the size and shape of a one ton cargo canister? Would a shield generator look about the same? How about the energy source (which I like to think of as a zero-point reactor)? As a ship designer you have to figure out how to fit all that stuff into the hull. If we had some sort of guideline, perhaps simple models we could share, we would have more consistency of design amongst the various modelers.
a zero point reactor, is that from the same technology that was used to create zero point modules
(from the stargate series)
but yes i agree some sort of guidelines would be helpful
hmm...
limits?
brrrr...
no it's true, but on the other hand i guess that's something difficult to decide, ok a 1t cargo canister is easy to imagine if we take a density of 1 as unified density for all matter.
(haven't we discussed such years ago? sometimes i feel... well only sometimes)
i could roll off all pro's and con's here, but i won't. ("phew, we dodged away")
drives...
thrusters...
yeah, for some reasons it should be thought about,
while, simply assume some, take or create yourself a simple "fist formula".
something like, my ship will have fully ladden a thrust of 12G (personally i don't like to go far above that, i dislike ships with 30g accel. fully ladden that's more then just unrealistic and i don't like to get mashed to chilisauce).
how large will be a thrusters nozzle then, i have to say i have no idea, take something that looks reasonable,
large thrusters like on the original ffe "Saker" didn't look good to me,
neither massive arranged like you see on many SW ships or other "battle cruisers", "how they steer the ship?".
rather i like a "antigrav" with no thrusters as such big stuff and why not i made some in this direction and ships using (i know it's not "pioneer style", but does only a few decide what fits to the game?) a antigrav haven't usually a good acceleratiopn, i decided for myself, a unified rather low acceleration, therefore in all direction the same amount of g.
well still i can't tell you what the right proportions are, besides i guess no one can do this
WHAT WE IMAGINE OF FUTURE TECHNOLOGY IS MAINLY LEAD BY TV AND MOVIES
and unfortunately often wrong or only oriented to style and not to reliability, just think about the massive thrusters of SW battleships, looks impressive but has no sense.
but i can refere you to my ships (sorry), i made a lot of and many have thrusters nicely setup in what i think is reasonable for the size and style of the ship.
i never would like to see a uniform style in pioneer, marcel
i haven't a uniform style amongdt my own and i never wanted to have.
many species, communities, many many different styles and influences, to expect even more apart as it's are today.
to me this shows only "uniform thinking"...
sci-fi is a matter of fantasy
don't blow the fantasy out of it, or it turns to a novel of l.r.hubbard...
...or some stupid uniform advice how to live your life and how to suppress others.
"TEAR DOWN THE WALL"
your own one,
everyday!
How about the energy source (which I like to think of as a zero-point reactor)?
Using zero point energy as a source of working power is like using the fumes in an empty fuel tank to drive a car. The fact that a thermodynamic system can never be totally depleted of energy doesn't make it useful (Stargate and The Incredibles notwithstanding).
Our energy source should at least be credible. Heh heh. See what I did there? I'll get my coat.
Topic starter
March 2, 2013 14:15
Damn your green blooded, pointy eared logic Brianetta! I'm an artist, not a physicist! *cough* Nurse! Get me a hypo spray!
Ah! That's better. Now where was I? Oh yeah.
If it isn't a zero point energy source then it must be a Maguffin reactor. This device uses physics that the people of the 21st century couldn't possibly understand. Also, it only works in a universe in which the speed of light is infinite. 😉
Anyway, my point is that modelers should think about how big it is and where it fits in their designs.
Fusion? Semi-plausible. And there's something cool about keeping a mini-sun inside your ship.
I'm not sure Fusion gives enough energy, don't ask me for the math but as I understand it we need en energy source on the level of Antimatter, if not greater. Pulling numbers out of the air, energy for a given mass of fuel... Fission gives you 1/10 N, Fusion gives you 1/2 N... antimatter gives you "perfect" conversion of mass into energy. Antimatter isn't an energy source itself... you need to use energy make it, like hydrogen or rechargeable batteries.
Back to square one with Antimatter in a way, then... I can't think of a way past that specific barrier without invoking some kind of "SuperScience!"
In the Exotic SuperScience suggestion box I like Mass Conversion
Hawking Knots
http://www.orionsarm.com/eg-article/49a58545cf19f
Annie Plants
http://schlockmercenary.wikia.com/wiki/Annie-plant
Conversion Reactor
http://www.orionsarm.com/eg-article/4aae287aac903
In practical game terms the only part of the energy system that really matters is the thermal signature of the ships...
funny how much is "known", about what no one can know.
somehow it smells of sulfuric acid here...
i mean, i could as well say ships will be driven by telekinese, it would make the same sense, if not more.
all this quasi science is really starting to enerve me, i like science fiction, no Q,
but to act like one would know the solution is simply stupid, sorry.
besides, and i posted this quite a while ago, i'm pretty sure that the real key to the universe is something completly different as we expect.
i promise we will be surprised how easy it is then, but we can't see it now, especially not if we move in the same old circle around it.
as long as we fixed on our own ego and abuse science for fame, we will find only our own ego and nothing else.
it's like the bible says: "eating your own vomited".
which brings me back to my parable with the geometry test results i wrote on the windows, you can't see that if you don't know it.
i knew that and have overwhelmed my teacher completely with it. it's a weakness of our mind i simply used for it.
---
if a superior race would exist (hypothetically) and watch us from space, it's clear for them to see that we are not ready for such a technology.
thus i belive, even if no such superior race exists, we have to advance first in other much more important things as physics.
then we probably find the right tool.
it's like the situation i described with the test results, it's right in front of us, it would be clear to see, but because the view ("outside the window")
is so commnly known to us we can't see what's on the surface.
if we knew it we would see it, but we didn't know it.
if it's once known, you will guess "i was a idiot not to see what is obvious".
You can have my Reaction Drive when you pry it from my "radiologically hot" dead hands!
Though as long as we're not allowed to use our main drive to Nuke some Fools they really might as well just be Telekinetic Space Elves lashed to the hull 😉
In any event... establishing some more concrete guidelines about the nature, capabilities and limitations of the technology within Pioneer is important from not just an Artistic but also Gameplay point of view...
i wonder who has the contaminated hands here...
some?
i didn't think it's really relevant for gameplay, or was it relevant to know of what matter Pac-Man was?
sorry, but personally to me it was one of the best parts of Frontier to imagine your own background story.
nothing was predestinated, that's what i loved at it, but of course i can't speak for others.
what if i don't like this or that idea?
i have to live with it, or start to dislike the whole thing, either one.
as a artist i have to say, absolutely not relevant for me, vice versa, again a limitation.
i don't like limitations, because they hinder new, no, make new impossible.
---
but well, i'm free to change this or that, it will take some time, i'm not in a hurry, but you will see.
(you can be lucky that gernot was striked by misfortune so much, prob. enjoyed it already?)
i will get me ollobrain as counselor, if he likes to 😉 because a ollobrain everyone would need.
strangewisely it's the ollobrains in this world who can discover what's written on the windows surface.
---
or to tell it in other words,
each favorises it's own fictive technology,
why should i give it a predestinated shape?
does it really matters, FTL, Hyperspace, Subspace, Telekinese, Gravital Lenses, Warp?
or which energy source?
it stays fantasy and each has it's own "hand wavy" stuff in it (but it seems some know this far better as me 😉 )
none of them is more or less realistic as the other.
could be i'm a big fan of Dune, i will prefere telekinese
could be i'm a trekkie, i will prefere Warp, Gravital Lenses
could be i'm a retro fan, i will prefere Hyperspace, Subspace, same for all the Jedi knights out there.
could be i see mixed technologies, depending on race or colonies?
but to lock all other ideas and close all doors, i don't know, not my kind of thinking.
sci-fi is mainly fantasy, but fantasy.
really to me it was important to have no predestinated technology,
fortunately Frontier wasn't bound thematically on any story, it fusioned all stories, you find a little trek in it,
you find a little SW in it, yes and even a little of hichhikers guide.
no question, i prefere the infinite improbability drive.
with that you can explain any shit.
I'm really not sure how to respond here... you do realize you are in a thread specifically about how various real and fictional technologies would impact the design of artistic assets for Pioneer, right?
I mean... if your trolling, that's fine... I just don't want to either brush off a misunderstood legitimate question... OR waste time poking at a troll...
And please... I'm NOT trying to be rude, myself... I'm just honestly confused here...
Topic starter
March 26, 2013 06:13
could be i'm a big fan of Dune, i will prefere telekinese

could be i'm a trekkie, i will prefere Warp, Gravital Lenses

could be i'm a retro fan, i will prefere Hyperspace, Subspace, same for all the Jedi knights out there.

could be i see mixed technologies, depending on race or colonies?
You've just defined the Maguffin reactor!
I'm just thinking that we should avoid designs like the Eagle from Space 1999. At first glance it looks really good, but then you notice that there's no room inside for fuel!
I've got the same kind of mental habit about thermal management as you've got about Fuel volume, Marcel... Luckily I'm not so stuck in my ways that I think the only way to dump heat is through big flat glowing panels sticking out like wings 🙂
How about droplet radiators?
http://www.buildtheenterprise.org/the-liquid-droplet-radiator
Easier to deploy, no vulnerable surfaces to protect... and in certain configurations the droplets can be used as protection, for example it you spray the drops ahead of you during acceleration you will eventually catch up with them (to collect them once they've cooled) but while they're out front they'll hit any specs of dust or gas before the ship does...
forgive me i'm stupid and a true lunatic, can't help.
So I've been doodling ship ideas on paper a lot lately and been having problems deciding how to handle Atmospheric Shielding. What is it? Is it extra plating along the nose and leading edges, perhaps some kind of nanotech thermal superconductor? Maybe it's a kind of shield, specialized for the deflection of high velocity gas... if so why isn't it also inherently useable for fuel scooping and protecting from missile explosions? Does the atmospheric shielding depend on aerodynamic geometry of the hull itself, blunt body or some kind of weird hypersonic phenomena? If so why does it cost extra and mass more than a "bare" hull? How does it work from every direction... or will it always?
Help me nerdy ones... your my only hope! 🙂
This... well this opens up a potential can of worms... or opportunities depending how you look at it.
"Worms" from an art point of view, "Opportunities" from a design one.
There's already an issue with getting the new "Mesh Shields" pull request integrated in that we don't have artists to create the meshes for all of the ships (or a coherent style to use for that matter) so it's on hold until we've done them all.
Adding visible, physically modelled, atmospheric shielding would be great... but it can't happen unless people are willing to do the extra bits for each individual ship, plus for the other ships that they didn't originally model because otherwise we'd have some with and others without.
In Pioneer we currently just re-use the red-blob spherical shield effect, but we're open to other options, we're bottlenecked with artwork is the main limitation :/
(sorry that's gone semi-rant)
Andy
Hmm, I was a bit negative earlier.
Lets start again 😀
What would you like? We currently have something which is like one of those mythical "energy shields" that stops the atmosphere from fricasseeing your hull but as you rightly points out it does introduce questions like: Why doesn't it stop missiles/lasers/plasma too?
Maybe it should, maybe those should be part and parcel of the same system. You just buy an "energy shield".
Or maybe they don't because they affect different densities due to the "handwavium" effect.
In reality it might be nice to have a range of modelled parts for ships that could be changed. However it is true that we need more art support for that... so... start bribing artists? 😉
All suggestions welcome, we can write the code to do (most of) it but ideas/suggestions/etc are needed.
Andy
Heh... I'd point out that I was asking all YOU for help with ideas... 😉
No worries about being harsh with me... I usually don't even notice and when I do I rarely ascribe it to malice... please assume no malice from me, as well, but if I'm coming across as rude let me know. It's the only way I'll learn 🙂
Anyways... yeah... shields in general are a problem...
The Droplet Radiator System works as a shield in some circumstances... like I mentioned it can be used to sweep the region ahead of an accelerating craft. Depending on what the droplets are made of you can also direct them with magnetic and electric fields, perhaps forming into a traditional "Shield".
Maybe the Atmo Shielding is MADE of atmosphere and that's why it doesn't protect against anything in Space. Instead of the hull itself forming a Blunt Body it exploits the fact that smacking gas at orbital speeds turns it to plasma, and can thus be manipulated electromagnetically... no need for extra Art assets for each individual ship, wasn't there a reentry effect using shaders being worked on a while back? That'd work... just start the front of the fireball a couple meters ahead of the nose...
Topic starter
April 3, 2013 07:59
The Frontier type of atmospheric shielding never quite made sense to me, except as a limitation of 90s computer technology. I've always imagined it as a force field. If that's the case why are there ships that are able to mount shield generators but are unable to mount atmospheric shields? It makes more sense to me that a ship would either be designed to enter an atmosphere or not. There would be a weight penalty for the heat shielding and wings, giving non-atmospheric ships an advantage in speed. Atmosphere capable ships would simply need to look like they could land. Examples of this type would be the Wave and Deneb. Of course, with Pioneer's super-duper engines you could land anything if you came down at 1 m/s. Perhaps instead of a simple max_atmoshield there could be a variable that states how much friction the hull shape would experience at different atmospheric densities? The Kanara, for example, looks like it could handle about 400 kph at 1 atmosphere, giving it a disadvantage at low altitudes compared to the Wave, but outside an atmosphere the advantage would be reversed.
In many cases I would agree that a vaguely Aerodyne shape could be the main difference between Atmo Shields and no protection, but Aerobraking independent of landing is a common way to shed velocity in Science Fiction and Real Life. If you have at atmosphere to plough through at your destination why waste reaction mass (and time...) slowing down at the "halfway" point?
For Supersonic and Subsonic flight an aerodyne has a very real advantage, demonstrated by John Crichton! At Hypersonic speeds, however, the Blunt Body is ideal from a protective standpoint.
Related to both subjects... has there been much progress lately on fixing the squished Gas Giant Atmo bug?
How about some Aerodynamic Flight modeling to take advantage of some tweaked aerodynes? 😉
I experimented with a sepearte test program to do a heating glow effect on the hull of a ship.
It looked pretty good with just a 1D heat colour gradient, if we could pass the (vector) direction of travel and some kind of scale for the heating effect then we could recreate the classic re-entry glow on the hull.
aka:
Then you could do some kind of projection of geometry to generate the 2D convex hull along the direction of travel and then loft that to get the shockwave trail...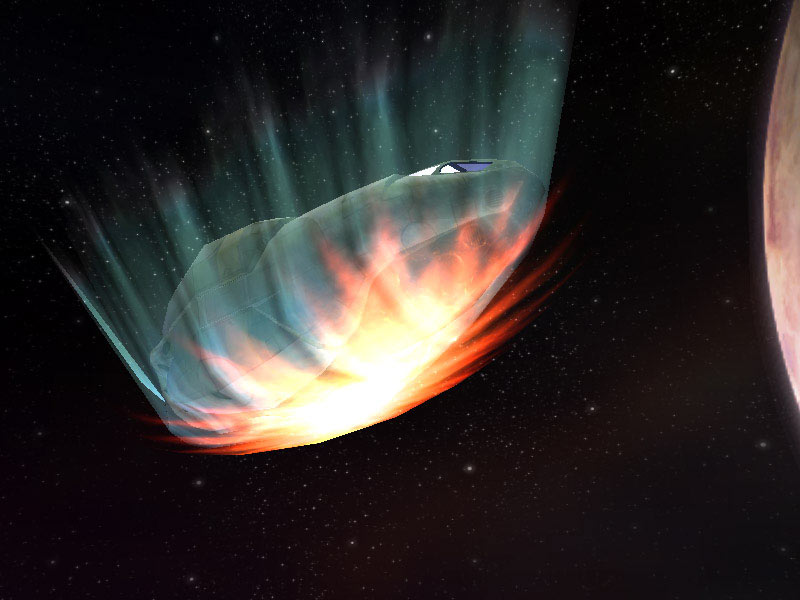 I prefer having a physical shield, but in Frontier I always imagined that atmospheric shielding was more about sealing up all of the holes and gaps in the hull that you don't need to worry about in space but which would be fatal for re-entry. Essentially the same hull but sealed somehow and the glowing red shielding was an additional layer of deflection rather than being the main part of the job.