The plan for SGModel
Topic starter
January 19, 2013 12:48
jpab, Luomu and I had a good chat a couple of days ago about plans and timelines for moving Pioneer entirely to SGModel and removing LMR. We went over everything we could think of to figure out what we think we need in place for the first release. Here's the plan.
First the date. LMR will be removed in alpha 32, released on 8 March. Freeze for that release is 1 March, so just under six weeks away.
We've gone over the models that we think we need for the game. That list is here:
http://pioneerwiki.com/wiki/Asset_List
This is the initial "core set" of models offered by the game. We expect it will be expanded as new gameplay requires it (eg faction or scenario-specific ships), but this is all for now. Of course mods will always be able to do as they wish.
There's a couple of features that we need to add to the code to go with this. The model system needs support for gun attachments (#1947) and navlight animation (#1946). We also need UI to customise ship (player) models, namely by setting decals, patterns and colours (#1959). We want these in place at first release so that some of the advantages of the new system are available immediately.
Obviously that's not everything we need/want to do (see issues tagged "Model System"), and there might be more in place by a32, but that's the minimum.
We'd prefer to get some new, well-designed models, and there are a few people working on that and experimenting (and giving lots of great feedback), so I'm hopeful we'll have a couple of new models in time. We also have some conversions of existing models in progress. The Lanner has been converted and is in the latest nightly build, and buildings and station conversions are in progress. So it all seems to be on track right now.
Comments on that timeline welcome.
Personally I'm ok with the timeline. The sooner the better in my opinion regarding SGModel. While I do appreciate the concerns and feelings of the modders here regarding the LMR system, the transition can only be good for the future of Pioneer.
If I am right, the transition will bring a standardised approach to new models in Pioneer, give memory improvements and in the long term make multi mods more compatible. That and from what I have seen so far, the visual look of the new SGModels (certainly those from fish), blow the LMR's out of the so called water. Yes there are gripes about animations and flashing lights but all that will come in time I am sure.
Guys, nobody implements a new model system if they think it is going to be to the detriment of the project. So lets roll with it and see what happens eh?
Topic starter
January 20, 2013 02:02
Please , take in consideration the fact than variety is also neccesary in a game
Please consider re-reading what I wrote (emphasis added):
This is the initial "core set" of models offered by the game. We expect it will be expanded as new gameplay requires it (eg faction or scenario-specific ships), but this is all for now.
Vuzz, the idea of having a light "core" of models for Pioneer is that it will make it more flexible for modders.
That way you can do total conversions for Star Trek/Wars, Homeworld, Paragon 😉 much more easily without getting a lot of clutter.
Your "all ships" mod is a perfect example. Pioneer itself will be light weight, then you add the kind of mod that you want onto it.
hmm... i'm not convinced, really not.
looks to me more like a "degrading",
and i can't imagine that all this wil be solved in a few weeks.
my conclusion to that i better keep for myself.
---
while to me this counts much, "have you seen this..." i haven't read such for the first time,
i know i'm not the best modeler, but it seems i have the right attitude to please the "crowd".
and to me, in the end this is what counts.
i'm very pleased if players comment such, because, really to me this is what counts, if one says "that's cool", i know that's the right direction to go and not what i have in mind.
let's compare it a little with music,
one could be a very talented musician and composer, but if he isn't able to touch the heart of the listener he's a brillant artist for him self.
the "people", the listeners, the users, the players, make the "sound".
besides, talking about music, s2odan has done one of the best jobs for pioneer, really.
i feel he's a good composer, and the music he made for the game tops all else what is in the game.
this is really what i think, no lie, no "fat talking", no sermon.
the title track is really classy, it contains material for more if i listen to it, only that it's played twice in one tune i didn't like to much.
but apart from that great! really i hear a "second theme" or any sort of "outcoupling".
---
something different,
you know i (we) had this problem with the screen artefacts,
i have discovered a very similar issue with a different (old) game, if i run to many models at the same time in this game it shows exactly the same artefacts.
it's, i guess, in this game bound to the old engine, because on my new pc i never have seen this with pioneer again, only on the little lower specced MACbook.
i didn't think it's bound to the mac release, i think you reached in such a case some limit of the gfx card or the machine at all.
while i'm not sure at all, but it looks like.
---
i'm willing to help, but please take my critics serious, else i won't be willing.
more about some issues i discovered in the last two weaks on a different thread.
also still i'm not sure if i like to contribute further, prob. this was the goal?
i don't mind.
i like, no i love this game so much that it's hard to stop for me, even if many things start to displease me.
but on the other hand, if the limitations are to much, you can be sure i will give up.
doesn't really belongs here, but also a multiplayer pioneer goes in the wrong direction for me.
i would have liked to explain this on the proper thread, but it came to my mind right now and not on a different occasion.
might be some think that would attract more players to pioneer.
imo that's wrong thought.
we had years ago a debate on frontier forums about the pro's and con's of a multiplayer elite.
in the beginning i was fantasized of the idea and it was something i imagined for such a game already back in '85 when i started to play computer games at all and multiplayer didn't even existed as a term.
but after weighting the pro's and con's, i came to the conclusion that it won't fit to elite.
the typical elite player is a single player, not that they have no social competence, no.
but they simply dislike this "hick hack", that you have no chance as a nube and will also get continousely insulted, i knew this myself from looking over the shoulder if my son when he played "guild wars".
like i said after weighting such and by getting aware that the elite veterans dislike it, i decided to dislike the idea as well.
still i would see a dogfight as a possibility it's to solve without a restriction of the game itself and it's not really multiplayer, just a dogfight for fun.
if you ask me, still the best part of computer games.
what did we played back in '85?
sports games, games you could play one against the other, tennis, soccer, whatever, something i can compete in with my fellow.
that was what everybody liked.
but this is to me already the limit of multiplayer, something measure competence against each other, no "massive battle" of people i have no relation to them.
my friend "jürgen" and me must have battled in tennis a thousend times, on the "inty", on the "miggy", on the "sega" and even on the rotten pc.
it never looses attraction, simple graphics of the "inty" or players that look like real humans won't matter, only you against me, that's what counts in such a game.
"paul" (another friend from back then) liked boxing most, i never have seen a such fighting game like on the "inty" again, most other are stupid (even EA's boxing is lame compared to that, if you leave the graphics aside), to much forfait for certain characters i dislike, the characters i could choose from on the inty was super balanced and you couldn't say who will win, Punch or Stamina, let's find it out. also combinations of hits was possible in this game i never have seen such again.
most fighting games are stupid and if you know the "special move" or get the proper "cheat" by pressing a secret combination of buttons you are unbeatable, that's rubbish from my pov.
not to tell what i think of a golf with "fireballs", "iceballs" and whatever... stop this "dragonball" shit, neither my son really liked it. yeah i don't have to tell you that i strongly dislike "anime", it's the wrong direction to go, it "educates" the wrong shit, not intelligence, not experience let's you win.
cheating your partner let's you win.
really the wrong starting point and leads to a bad character, i have no doubt about that. what and how you played as a child forms your character.
(sometimes i really ask myself if this isn't a sort of revenge, a sort of vendetta of the japanese against european and north american culture, well if that's true... evil.
impoisoning our children with subconcious violence and sexual abuse. besides something you don't really have to learn, evil is planted in every human, righteousness one has to learn first. bad behave needs no intelligence, really not, but to make compromises needs a lot of it. argh, this said by someone who feels hard to make compromises...)
well something went wrong, at least i know from days of "kindergarten" that massive powers lead to the end of fun in the game (and this counts for real life as well, think about that).
if you start to beat each other with "nuclear weapons" the game is finished.
though keep things balanced, even in the sandbox and you (we) can play the whole day (life) long.
stay fair and the battle will be real fun.
potsmoke/gernot I have now lost count the amount of times that you take the progress of pioneer as a personal attack and I have lost count the amount of times you have said goodbye and I am not contributing further to this project. Yet here you still are.
I'm fairly sure that the switch to SGModel is not to force you out. It's entirely upto you if stick around or not, nobody here can force you away.So in the end It's quite bloody simple. Move to SGModel. EVEN I have been able to get a basic chassis into SGModel and then added as a mod and I have no experience with modding, modelling, SGModel or Blender.
Convert your models' basic chassis and then try to provide decent feedback to improve SGModel. Tell them what you want added and why.
To use your music analogy, a talented musician and composer can use many instruments not just one. They continually learn, improve and adapt.
I'm afraid that is what you must do from now on or as you say you will not be able to contribute and too me, despite your paranoia and pointless rants would be such a shame.
in general ,
the idea of having a light "core" of models for Pioneer is that it will make it more flexible for modders
applause!
but hmmm..., is the actual direction really the right way to fulfill that?
because i didn't see it's getting more flexible, it's getting less flexible in fact.
of course i see that this and that will be implemented in future, but certain things we will lose for sure.
and like i said once before if you like to keep up this flexibility you end up in something very similar as what we had with the LMR.
not that we would need to build from expressions,
but how can you offer to me control over a simple thing like a flashing light without to add at least some definitions for the light.
how can i light up a interior of a building or a large ship, without something as "locally lit".
many hows will follow...
if regarded only a few of them it will get as complicated as to model with the LMR.
if not it ends up in something "stiff" i have no control over it.
and sorry if i have to say this,
already it looks to me that i will have less freedom in pioneer in future as i had with commercial games like NFS or SportsCarGT.
this certainly didn't fits imo to a open source game.
i could be evil now and say; "i will have far less freedom as in FFED3D" and this couldn't be the goal
(apart from that the implementation MUST be overhauled, collada isn't the right choice, really not and even directx models animations leak, don't tell me i will have to learn this, or you will have to send "coolhand" back to school as well!
very unpleasing for me not to get respected with my critics and get handled as if i'm a idiot.
well i have a loud mouth, but i'm not wrong (often at least) ).
---
yep it's true i often said i will quit, i'm really divorced in that, it's tearing me apart.
on the other hand you see i have started to use the new "instrument", but the sound it makes is a bit "disharmonic" 🙂
but really, i should not pester this thread anymore.
expect news and experiences on "new model system", i'm moving there right now...
Vuzz, you should heed your own words. I am learning to export and import models into the new system because it would seem you and gernot are reluctant to do so without a bucket load of whinging. But even when I do all you can do is call it a flying box. At least I am trying my Spanish friend.
And I only said what he needs/has to do to continue to contribute to pioneer when the new model system is in place and LMR is removed.
besides, talking about music, s2odan has done one of the best jobs for pioneer, really.

i feel he's a good composer, and the music he made for the game tops all else what is in the game.
Aw shucks 🙂 Thanks man 😉
Don't forget about Fremde's awesome tracks though, those are my favorites.
Also not forgetting the awesome contributions made by Emajogi and Arkthuris.
Cheers.
Topic starter
February 3, 2013 17:40
Back to the original topic. For your information, LMR has now been removed on master. Its still present on the alpha31-freeze branch, and will be in the alpha 31 release this Friday.
There isn't currently a nightly build - the first ones for master will appear after alpha 31 is released. You will only see it if you're building Pioneer yourself - references to nonexistent models will result in a giant red "ERROR" model.
Still four weeks to go before the alpha 32 freeze. If you want it to look nice, do contribute models! Here's the list of what we need: http://pioneerwiki.com/wiki/Asset_List. A nice cargo and missile model would be good - don't forget the little things!
At what sort of level of finishedness would you accept models?
I have 2 ship models that currently need:
Undercarriage (trying to figure that out at the moment)
Good UV maps (I just have 'placeholders' at the moment)
LOD models
I don't get much time to work on anything but I would hope to have the undercarriage done in the next 4 weeks anyway.
a very quick missile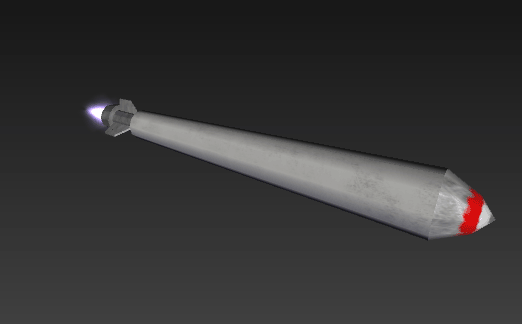 now i know that people can do better than this weather you just make a better texture or re-build the whole thing
If you post up what you've got people might be able to help out a bit 🙂
A few people have done some undercarriage work too. Hopefully they'll be able to advise you on it!
Added solcommands kanara interceptor, but it has no animations.
a very quick missile
Inspired by this and some discussion on the IRC channel, I have made an alternative missile mesh. It's unwrapped, but not yet painted:
The things on the front are nozzles for manoeuvring. The main engine can do thrust vectoring (conceptually only -- it's just a static mesh).
John B
Browsing SolCommand's site, I found some ship that could cover some role.
This could be placed as a bulk ship. It's more like a generation ship, but since it's very good looking, I think it could be nice seeing it near some space station.
http://www.solcommand.com/2009/12/oltenia-sleeper-ship.html
This looks like a big cargo ship. Maybe replacing the Hammerhead
http://www.solcommand.com/2010/03/eris-industrial-ship.html
This as a light fighter. It looks a little bit older and cheaper than the Kanara Interceptor. Maybe it could be placed in the same role as the Eagle LRF, as a cheap, second hand startup fighter? 🙂
looks like i could help?
i have made a couple of ships meanwhile for the SGM, if i like it or not 😉
i guess i will upload the models as aomplete projects,
means it will include the blender project and the gimp texture works i did for the model,
though you can examine it, prob. that will help some with the work for undercarriages.
what i can do in advance, is to refere (resp. to advice you to look out for it) to two very helpful but maybe a bit "ancient"
video tutorials for simple rigged animations, unfortunately blender2.49, but maybe something fitting exist for the new release.
one is a "lamp" animation, he works with bones to pose the model, we won't need such, but it's good to understand how a couple
of linked rigs work or have to be animated.
the second is a "conrod" tutorial, this was the most helpful for me back then, to understand how to make a conrod.
i haven't the patience (or time actually) to search for the old ones neither for some new, sorry (it has cost back then more then one night to find a good clip,
usually they run to fast through the program and explain to little, anyway a scripted nicely documented tutorial is somewhat better, because
you can always step back and read again what you havn't understood well).
btw, it's still the crux with collada for me, seems either i'm to stupid, or there is really no way to export that proper to collada,
at least not when i use constrains, and especially not with blender2.65 and not with collada.
to use "visual keying" helps a shit, because each visual key i set in 2.65 produces wrong data.
what i thought about is that we build (or i do this at least) our models wrong (now this shit comes again, but it's a fact which has to be respected).
in short we use a lefthanded oriented software (e.g. blender) and build the ships heading in wrong direction.
that was never a big problem (except for the mirrored uv which strikes back again now on the dumped models for scripted geometry, but who to the hell would like to dump a wavefront .obj? more issues with the dumping, it's near to useless from my pov, ogle xtracted models are far handier as the dumped models. all submodels are scaled as they was written and of course centered to their own centre. that is a bit problematic, because how should one know where a part belongs and how it's scaled without examing the script. if it's not your model (and if it's not me...) a treat, i can swear)
ok, what i noticed last time i fiddled around with a conrod in blender2.65, is that if i rotate a part, let's say simply +90° along it's X axis, the stored value is -90°, that's because we "head wrong". we export usually the model to the lefthanded orientation but we use them righthanded in the game.
again, that's why i build them back then "wrong oriented", wavefront stores no orientation or matrix, it's a simple mesh and it's oriented to the "world" you load it in.
BUT and i have to say BUT,
the proper way would have been to build them lefthanded oriented and to "invert" the coordinates with a "matrix.new(v(-1,0,0),v(0,1,0),v(0,0,-1)" to fit it to the righthanded coordinate system of pioneer. this would have even prevented from the mirrored textures (in some sort), because if you "flip" the model it's not the same as rotating it 180°.
but two things have annoyed me much when i did it the "right way", i would have to keep in mind that right becomes left in the game.
thinking of that in advance when you build a model is not very good.
second was that a imported (only for those) texture of a lefthanded oriented model will be mirrored over the horizontal extension, a flipped "X" is much more problematic as a flipped "Z", "dammit" all stuff is mirrored and i have to map it new, that's why i simply rotated them and flipped the textures vertical coordinate.
now there would be a way to work around that, flip only "Z" of the model and invert the normals (or export it with flipped normals, flip "Z" with the matrix), but all this i decided is "stupid" and "useless".
it was far easier to build it oriented wrong (my biggest fault you can say, because anyone followed me and it still persists,
we build oriented wrong)
back to blender and collada, like i said rotations get stored wrong when i use visual keying and it get's completely confused if i use visual keying for translations.
but give me some time, i will investigate in this direction and see what happens if i build the model proper lefthanded oriented.
long sentence short sense 😉
what you can expect in a short time are a few SGM projects of mine which you can examine, if that helps at all.
most animations i exported as .x meshes from blender2.49, even when i build the model prob. in blender 2.65, simply because they work 100% as expected and planned, since they store the proper matrix when it's proper exported (the new 2.65 export script is useless compared to that really! it simplyfies a lot of things if you just can press "export" and it works without any doubts).
another hurdle (along with the modelling, others i better shut my mouth about) is that i can't use vertice parenting for collada, it get's confused by that and the parent becomes child object.
but object parenting works properly, but all that is useless if a can't export the nicely made animation because i can't set no proper keys for the constrained objects.
four times i started (and thus for real, i really like to find out what's behind or what i'm doing wrong, if so), four times i failed, gave up and used .X meshes exported from "ANCIENT" 2.49 and that shit WORKS!
there are even some things i started to like at collada, the instancing i.e. but nonetheless i still feel it's a problematic format.
ahh, (sorry even more text)
i noticed also a small leak with handling wavefront .obj... ahh yepp...
i noticed that you use only the material name from the "matlib", but the material is usually (with exception for the new blender export script, ha again new... if you set "no matlib" -> no material names, stupid (sorry) new stuff. sometimes just look back and see what was good and handy and keep it) for each mesh/group/object is named in the .obj itself, why we need the "matlib", if we use of it only the material names listed in it?.
ah i know because of blender 2.65 which is so much better as ancient 2.49, it didn't exports material names without "matlib",
though the "world" must be ruled only by the new stuff...
...fortunately not, else we wouldn't exist...
sorry 2.65 LOOKS better it FEELS better, it has some features more, but leaks in other parts heavy.
"shiny on the outside, rotten at the inside?" i hope not.
you will forgive me my little sarcasm here.
Has anyone done the cargo container yet? I've been RTFM the Blender manual, and starting to get the idea. It would be a nice, simple first project for me. Would an eight sided cylinder the same size as the LMR model be OK? It's rather small. As I recall it's about 2 meters long. To make it visible I could make it silver, or would you like to go for platinum? The thing is, with my RL obligations, I don't know if I can do it within two weeks.
Topic starter
February 21, 2013 16:07
Has anyone done the cargo container yet? I've been RTFM the Blender manual, and starting to get the idea. It would be a nice, simple first project for me.
Not yet! I did grab one of the test models as a placeholder, which is mostly just a cube. It will need to be replaced, so go for it!

Would an eight sided cylinder the same size as the LMR model be OK? It's rather small. As I recall it's about 2 meters long. To make it visible I could make it silver, or would you like to go for platinum?
I don't exactly remember the size of the cylinder, but the cube I brought in is just under 2m and seems to be about right in-game.
I don't have a strong opinion about the material. It would probably be nice to have different colours and patterns (and models!) available for different types of cargo, but for the moment a simple flat colour will do just fine. Don't overcomplicate things early while you're still learning!
The thing is, with my RL obligations, I don't know if I can do it within two weeks.
No hurry! Like I said, we've got a placeholder for the meantime
Topic starter
February 21, 2013 17:58
Luomu beat you to it! #2101
Still, don't let that stop you doing something different. We're working towards making all sorts of weird and wacky cargo possible, so alternative models will be great to mix up the variety a bit.