Games with Playable Capital Ships
Topic starter
September 20, 2010 17:26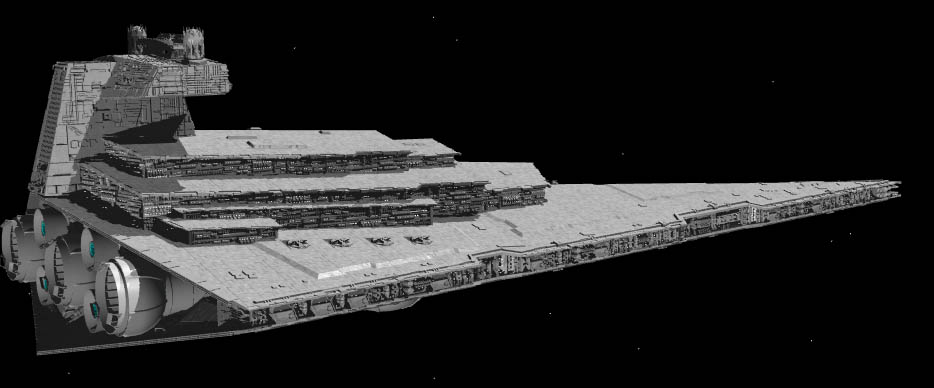 The Star Destroyer. Who hasn't wanted to fly around in one of these colossal triangles of death?
Are there any games that will let you do this, or at least fly any other capital ship?
Hmm I don't know of any game where you can fly the SW capitol ships. If I remember correctly you will be able use/pilot a capitol ship Naumachia: Space Warfare.
Mods of Freelancer have all kinds of ships.
Starshatter: One of the reasons I liked the game was you started out as a fighter pilot and as you progressed in rank you could captain a frigate, destroyer, cruiser and finally carrier ops. Pretty cool.
Topic starter
September 21, 2010 16:37
Thanks, everyone, for the suggestions.
Battlecruiser Millennium turned out to be completely free as the maker discontinued it, so I'll be looking into that as well as Freelancer. I remember seeing both Star Destroyer and Death Star mods for Freelancer.
You could fly Star Trek capital ships, in the Starfleet/Klingon Academy , and Starfleet Command series. And I-War 1/2, was primarily focused on capital ships.
Topic starter
September 22, 2010 18:42
I-War 2 has flyable capital ships? Wow I'd better go back and go through it again. Thanks!
star wolves series allow you to fly capital ships, unfortvnately you can't fly simple fighter. the latest, sw3: civil war, can only change ships based on game campaign progress, the ship customization is too limited for my taste. and after final battle, you can't continue playing . i don't recommend this game, disappointing imho.
Nexus: The Jupiter Incident is based around your capitol sized ship.
Ill throw in a vote for the X series, also EVE allows capital awesomeniss...
if you like... invest MONTHS/YEARS into it.
Still who's never wanted to pilot (excuse me, click) a flying city with uber death rays. Its even called a TITAN. How cool is that?
Topic starter
September 30, 2010 16:58
How is X and it's capital ships, and which one should I get if I were to find them on eBay(for $10 or less)?
I'm trying the Trial for EVE now. I probably won't be buying it as I've also never cared for paying the equivalent to buying a complete whole game a month as a subscription for anything. 😆
X3 has cool capital ships, so does X3:TC but I wouldnt get TC (Terran Conflict) as there arent any good mode for it. This game is all about the mods, as its pretty boring without them.
The X-tended mod adds in 2 or 3 mothership class ships which are bigger than any in the vanilla game.
But the game has many flaws, its worth buying though.
Well games with capital ships I look also out for.
3000AD series wich latest was Universal Combat. Because it's a mix of
Space and naval BAttle cruiser + FPS shooter. They renamed it.
But the game interface is much more hairy then that from X3 TC.
Topic starter
October 25, 2010 18:58
Thanks! I'll check it out.