Ring Runner - Flight of the Sages (Inspired by Silent Death Online and Subspace)
Topic starter
November 8, 2012 13:39
Hello everyone!
We're just 3 days away from the end of a successful Kickstart campaign for Ring Runner: Flight of the Sages!
If we can reach our $29,000 stretch goal, we'll offer all of our $15+ backers a free DLC: The "Sci-Five Ship Pack."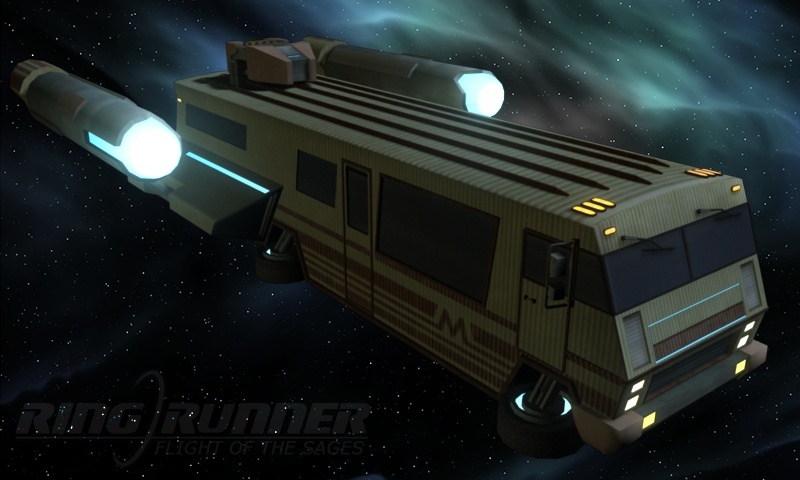 What is it?
This DLC will include five new Rank 5 ships inspired by our favorite Sci Fi shows and movies. They will include hulls like The Starship Entrepreneur, The siX-Wing, The Fightin' Beagle 5 (pictured above), and two other surprises! Aside from looking fantastic, these ships will offer unique templates for customization, just like the rest of our 65 playable hulls.
Who gets it?
All of our backers who've pledged $15 or more!
When do they get it?
We'll make this DLC available shortly after release, or perhaps even at launch if we're able!
---
The Fightin' Beagle 5 features elegant lines and a majestic wingspan. Note the "where we're going we don't need roads" tires.
In case of an impromptu party or as a contingency for when you can't locate a party, the Beagle comes fully equipped with a bumper-mounted star-punch dispensary. You will be admired by small children. Men love its utility. Ladies can't resist those nacelles. And any Mohmil will tell you, a Fightin' Beagle is the next best thing to long whiskers.
Hop on over to Kickstarter and help us reach or surpass $29,000 and this fine craft can be yours!
Until next time, Sages!
-Enrique
Congratulation on smashing you target and that's a great stretch goal.
Topic starter
November 9, 2012 21:54
Thanks! I hope we can achieve it 'cause it'll be a lot of fun making these ships for people. If we don't reach it, I'll probably still end up making them for DLC at some point.
Topic starter
July 19, 2013 22:40
Just bought a copy from GOG but have not played it yet and now just spotted that they have released some DLC or add on for the game. 😎
It's a patch that gives ya the new content Pinback, I have yet to try it but I will. This games story and dialog is entertaining btw.
Wonder if I can use my save game from the demo, will give it a try at the weekend.
There is currently a indieGameStand deal going on for Ring Runner and you even get the novel.
Ring Runner has been greenlit, so you should see it on Steam very shortly. It's a great game and everyone should give it a try, there is a demo so give it a whirl.