Star Trek Excalibur
Topic starter
December 17, 2013 04:28
Looks like it gonna be the best Trek game yet, and it's fanmade!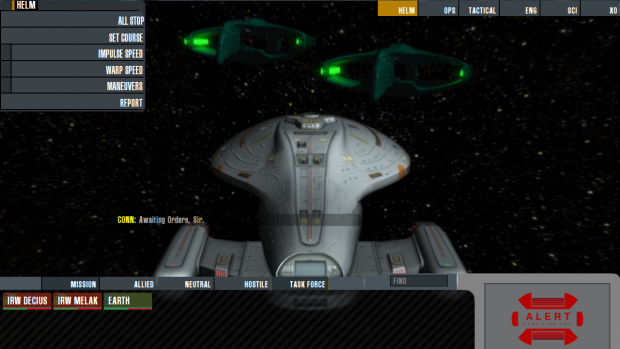 http://www.moddb.com/games/star-trek-excalibur
These fan game are often a lot better than any of the commercial offering.
Been watching and waiting for this one for years, think its been in development for 3+ years now. The ship models are amazing.
this is simply awesome, been watching it since inception.
When I saw the topic I thought this thing was released 🙁
Topic starter
December 19, 2013 01:56
When I saw the topic I thought this thing was released 🙁
From what I read, they'll release a quick battle demo shortlyâ"¢
It's a beautiful thing right enough. I've played with the engine demo many times. But DEAR GOD it's taking forever and a day to develop! Chances of seeing a game out of this by 2016? Low.
don't forget they actually wrote an entire engine for this. NANOFX. Made the game completely moddable everything first. Now all of that heavy lifting is either near done or done, logic gameplay can be added very quickly, especially if they have a solid design document to follow. I'd say early 2015, and sometime during the 2014 you'll get the quick battle mode.
Topic starter
December 31, 2013 16:19
Something to keep track of Quick Battle demo development
Been waiting for this one for years now. Bridge commander is one of my all time favorite games. Can't wait to play this one. Looks out of this world!
The team has done an amazing job on the ship models in this game as well.
I would be so happy if something came out of this, even if it were something less than wonderful, but it's been a while, so I'm skeptical.
I so miss the days when there were actually good licensed games on the market, and I especially miss the days when there were ANY Star Trek games on the market. I have such fond memories of Birth of the Federation, Elite Force, Starfleet Command, Bridge Commander, A Final Unity (when are we going to get that on GOG, by the way?), even some of the lousy ones like Klingon Honor Guard (have very fond memories of that for some reason), New Worlds, Aramada and Away Team. Oh, those were the days... At least we have a brilliant Sins of a Solar Empire mod (Call to Arms), even if it's not balanced quite how I'd like it.