Recent new stuff
Topic starter
January 18, 2014 02:56
Its quiet around here. So lets spice it up with some screenshots of things that have been added to Pioneer in the last couple of weeks.
New ships: Malabar and Vatakara
From the Mandarava-Csepel ship yards, here's the huge Malabar passenger transport and its cargo-hauling variant the Vatakara.
Hull heating effects in atmosphere
When things get hot, your ship now tries to tell you about it.
This is a first step - there's plans to make this much more impressive/terrifying in the future.
Shield meshes with hit effects
The old red sphere shields are gone, and now we have nice semitransparent shields that fit the shape of the ship. There's also some nice energy dissipation effect when you get hit.
Ship trails
Turn this on in the settings and you now get little lines showing where other ships have been.
Cockpits
A cockpit with some small headlook effect when the ship moves. Right now its only a static mesh, and you need to add this mod to use it, though we're planning to include a nicer version in the standard build very soon. We're using this to explore some different styles and effects as we work towards a fully interactive cockpit (ie buttons and displays that really work).
Ship trails will be available in the next build (20140118, available in the next hour). Everything else has been in builds for at least a few days. Now is a good time to try a new Pioneer build if you haven't for a while.
Awesome robn!
I do love how this game is shaping up 🙂
Remember everyone, if you find a bug then take a look at our issues list https://github.com/pioneerspacesim/pioneer/issues?state=open and if there isn't one for what you've found then open an issue to let us know what's wrong!
Alternatively if there is already and issue then feel free to add more information too it about what happened to you.
Let me drop a line about the start of the re-balancing effort, paired with a survey to see how Pioneer plays for you. 🙂
Oh yea, Mod DB will go nuts when this baby lands at the end of the month!
Hi all.
The new features are amazing. The new GUI, trails and the experimental cockpit rocks.
But I would want to note something about the future cockpit.
Some of us (maybe just me... :D) play pioneer with a narrower or very narrow FOV. Me, specifically play with a FOV of 35 or 40 degrees. The 3d cockpit is practically out of screen with that FOV. My petition is if something could be done in the final version to correct the cockpit display or aspect ratio in every FOV and display it in its fully glory.
And one more thing. I see that some models in the intro menu have glitches like textures dissapearing or models not showing correctly. Is just me? is it a known issue?
Greetings!
Hi
Adjusting cockpits to custom FOVs is a bit tough, and couldn't be guaranteed to look good on every FOV imaginable. Maybe the cockpit could be moved forward based on the FOV setting, but it would look like if it's quite far from the pilot. (Zooming tends to squash perspective and sense of scale).
16:9 <-> 4:3 difference is already taken into account tough.
Are you referring to this bug? It's being worked on as far as I know.
if widescreen and 4:3 are being taken in account, perhaps the final result could be good enough to fit a more variety of custom FOV.
But I have no idea if aspect ratio and FOV are interconnected in any sense. 🙂
zooming the cockpit is not ideal, as you comment, cockpit independent of the FOV could do the job?
Greetings
FOV and aspect ratio doesn't really interconnected. In the game you specify vertical FOV, so aspect ratio changes doesn't messes with your "zoom" but adds a bit more to the sides on widescreen.
The problem with FOV independent cockpit is that it would most likely look off if the FOV difference is too big. And if it's kept the same size regardless of the FOV, then it will look distorted. Something like this (not my image):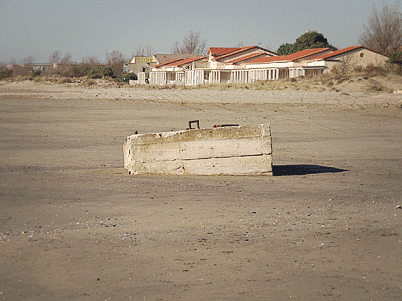 Zoom and mouselook possibility might alleviate the problem though.
I got it, Thanks for the clarification. 🙂
Looks good Robn. You guys have been busy while I've been away and distracted.